It's that time of the year again...lets go!
Top Prospects by Position
Catcher
Jesus Montero
Coming off of an injury shortened season in which he only played 92 games due to a broken finger, Montero used those 92 games to dominate and move through A+ and AA ball. He will begin 2010 in AAA Scranton, putting him right on the door step of the majors. In those 92 games he hit .337 with a .389 OBP and .562 SLG to go along with 25 doubles, 17 homers, 1 triple, 70 RBI, and a 28/47 BB/K ratio. And he did this all as a 19 year old. Last year when I did this thread he was coming off of a good season in Low-A ball and I had his ETA at 2012, needless to say he put a wrinkle in those plans with what he did last season.
ETA: 2010. Catch, DH, even play centerfield, just get into the lineup and mash.
Austin Romine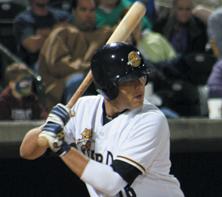 I've been saying this since he was drafted and will continue to stand by it, he is the future catcher of the NY Yankees. His strong all around game is what will force Montero to be primarily a DH (the two will split time to stay sharp IMO at C/DH), a dream scenario for any team. Two young stud catchers that you can platoon to keep them well rested as they adjust to the major league game. He got off to a slow start last year which held down his overall numbers, but the extraordinary tools are there and this is a big season for him.
ETA: 2011
Gary Sanchez
He is considered to be a mix of Montero's bat and Romine's glove and is just 16 years old. The word on him is that his bat is a bit more advanced than Montero's was at the same age and he has comparable power, but we'll see if he has the incredible all around offensive game that Montero developed. Don't forget Montero struggled in his first season in rookie ball so anything Sanchez does is a huge bonus. He has more all around potential than Romine but he is so far away that he can't be ranked above him just yet.
ETA: 2013
JR Murphy
A top pick from a year ago, Murphy was considered one of the best pure hitters in the entire draft with a great approach at the plate and an advanced bat. His defense has some catching up to do, but he has loads of potential considering he is new to the catcher position and was drafted out of HS, he is still just 18 years old.
ETA: 2012/2013
Others to watch: Kyle Higashioka
First Base
Brandon Laird
For us, first base doesn't really seem to matter much down the road. Teixeira is obviously locked up for a while and it can certainly be a position that Montero takes over after that. Brandon Laid looks like he can fit in nicely as a power bat off of the bench as he is primarily a slugger with some defensive struggles.
ETA: 2011
Second Base
Corban Joseph
Joseph has quickly turned into one of the most intriguing prospects in the farm system. He hit an even .300 last year, but .337 with 13 doubles, 4 triples, and 4 homers in the second half. What makes him a special talent is his approach and plate discipline, as he had a BB/K ratio of 49/61 last season. This type of hitter at the 2B position isn't something you see everyday and it makes him a strong prospect, especially since he bats left handed. He will be 21 years old for the entire season, so it will be important for him to have a strong showing in Tampa and hopefully get to finish the year in Trenton.
ETA: 2011/2012
David Adams
Adams is another very solid 2B prospect to keep a close eye on. His power numbers are still developing just like Joseph, but he did rack up 40 doubles, 8 triples, and 7 homers last season between Low and High A. He hit .286 with a .373 OBP so that shows his ability to get on base. I believe he will start in Trenton this year but we will find out for sure. He may project to be more of a backup utility type of guy compared to Joseph, but don't count him out as a solid player.
ETA: 2011
Others to watch: Jose Pirela, Damon Sublett
Shortstop
Eduardo Nunez
Last year I said I felt obligated to keep him on the list until he is 28 years old just because of the incredible tools that he possesses. At 22 years old, he finally looked like the prospect everybody expected him to be last season. He hit .322 with 26 doubles, 9 homers, and added 19 SB for Trenton. There isn't much room for an infielder in New York right now, but with another strong season he turns into a very interesting trade piece that I am sure a number of teams would love to add to their organization.
ETA: 2011
Third Base
Brad Suttle
Missed all of last season due to shoulder surgery, I'll still give him a mention here because of the type of player he is. Any switch hitter who hits for power is one to watch, but this is an important year for him coming back from the injury.
ETA: 2011/2012
Others to watch: Jimmy Paredes, Garrison Lassiter (moved from SS)
Outfield
Slade Heathcott
Simply put, this kid has sick potential. He is a good pitcher (reportedly can hit 95 on the gun and has a nasty curveball) and a star football player in HS. He has just about every tool imaginable and right now is considered a 5 tool player. How all 5 of those tools continue to develop through the minors is a question because he is so young, but the star potential is there.
ETA: 2013
Abraham Almonte
I was down on him for a little while but he has rebounded pretty strongly since he moved to CF. From reports, it seems like he has turned into a star on the defensive side in the OF. He hit .280 with 14 doubles, 10 triples, 5 homers, and
stole 36 bases in 41 attempts
. He is still just 20 years old and is a switch hitter, so you can see that he has quickly regained his status as a potential top prospect. I am looking for big things from him this season.
ETA: 2012
Kelvin De Leon
He was regarded as the top international free agent two years ago who was a 5 tool player. He struggled for a bit in his first season and still needs to work on his plate discipline, but one thing he has shown is his combination of power and speed. This is the type of guy who can put it all together at any moment and explode onto the scene as an elite prospect, so watch him carefully.
ETA: 2013
Eduardo Sosa
Sosa actually outplayed De Leon in their first season in the minors which opened up a lot of people's eyes, but he took a major step back last season. He is known primarily as a superb defensive player in the OF who has great speed and power potential, but he is still young at 18 and has a long way to go.
ETA: 2013
Others to watch: Zoilo Almonte
Starting Pitchers
- Even with major down years from the top two guys (Betances and Brackman) and the trade of Vizcaino, this is once again a strong area for the Yankees by no surprise. Keep developing those arms and the rest will fall right into place.
Manny Banuelos
All this kid has done is dominate in the minors so far. He posted a 2.64 ERA in 109 innings, allowing 88 hits, 28 BB, and striking out 106. He will be 19 by the time opening day comes around, and as a left handed pitchers, he has some serious potential. If he fares well this year as he begins to move through the system, he will put himself on the map nationally.
ETA: Sometime 2012
Zach McAllister
He remains one of my favorite prospects like he has been for the past 3 or 4 years. Nobody wants to give him recognition but he continues to get it done. Put up a 2.23 ERA in AA as a 21 year old and allowed just 98 hits in 121 innings. He still doesn't walk guys and has improved his strikeout numbers. I think he will put up awesome numbers in AAA and get a shot at some point this season if there are injuries.
ETA: 2010
Jose Ramirez
I saw that rappa posted an article about him a couple of weeks ago in the 2009 thread, and it is worth reading because this kid has good stuff. He throws very hard, sitting in the mid 90s and complements it with a really good changeup. He is still very young as well so he won't play a role on the major league in the near future, but he will be fun to watch regardless.
ETA: 2012
Others to watch: There are too many to write up about, so here they are...Christian Garcia (again), Dellin Betances, DJ Mitchell, Graham Stoneburner, Ivan Nova, Jeremy Bleich, Jairo Heredia, Wilkins De La Rosa, Hector Noesi, Adam Warren, Brett Marshall, Sean Black, etc.
Relief Pitchers
Andrew Brackman
He turned into a different pitcher after he was moved to the pen last season. He was able to focus on just throwing 2 pitches and work on repeating his mechanics, and it has helped. I expect him to play a role in the pen this season.
ETA: 2010
_____________________________________________________________________________________________
My personal top 25 list:
1. Jesus Montero
2. Austin Romine
3. Manny Banuelos
4. Slade Heathcott
5. Zach McAllister
6. Gary Sanchez
7. DJ Mitchell
8. Corban Joseph
9. Andrew Brackman
10. JR Murphy
11. Dellin Betances
12. Abraham Almonte
13. Eduardo Nunez
14. Graham Stoneburner
15. Jose Ramirez
16. Jairo Heredia
17. David Adams
18. Kelvin De Leon
19. Jeremy Bleich
20. Ivan Nova
21. Christian Garcia
22. Eduardo Sosa
23. Wilkins De La Rosa
24. Brad Suttle
25. George Kontos
As usual, 13 pitchers. Having 4 top 10 catchers is incredible, and all are legitimate stud prospects.
I had a lot of trouble ordering some of these guys because they are on the same plane as prospects, so guys from 5-25 can find themselves in completely different spots halfway through the season depending on performance.