Moderators: Texas Chuck, Dirk, HMFFL
Freshman
Posts: 89
And1: 22
Joined: Mar 26, 2021
Luka can make DFS and Kleber sharp shooters

Great win, the Wizards are hot. Go Mavs!
---
Lead Assistant
Posts: 5,777
And1: 5,376
Joined: Nov 08, 2009
That play by WCS was so atrocious, I think he got benched right after. 111-111 with 4:48 to go.
I can you not score or get fouled on that one instead of trying a pass to DFS... He never even looked at the basket even though there was no one in front of him! As soon as he caught the pass he looked to DFS.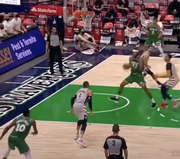 ---
---