WHEN:
Wednesday, January 09, 2007
WHERE:
Madison Square Garden, New York, NY
TIME:
6:30 PM Central Time (USA)
AT
Projected Starting Lineup






C | #34 Eddy Curry
PF | #50 Zach Randolph
SF | #23 Quentin Richardson
PG | #11 Jamal Crawford
SG | #3 Stephon Marbury

Projected Starting Lineup
NOW!!! Here's the starting lineup your Houston Rockets!!!!!!
Starting at center, we got the GREAT WALL from CHINA
#11 YAO MING
Starting in the backcourt at the point guard spot
We got the streetball legend AKA "SKIP TO MY LOU"
#11 Rafer Alston
Starting at the other guard
We got THE CLUTCH SHOOTER
#2 Luther Head
Starting in the frontcourt at the power forward spot
We got THE WORST and UGLIEST free throw shooter
#44 Chuck Hayes
(but he's willing to do everything else on the court, like cleaning the floor with his back)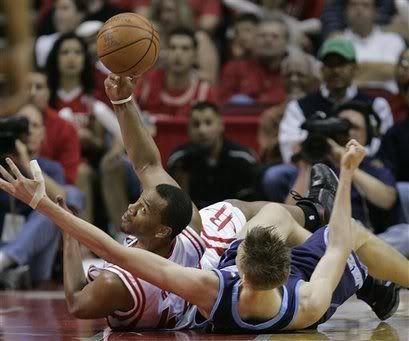 At the other forward, we got someone who's doing all the dirty work
#31 Shane Battier
Oh! Lord!
NOW LET'S KEEP OUR WINNING STREAK GOING AND BEAT THE KNICKS AGAIN!!!!