1-0
@
1-0
6:00 pm EST at The Air Canada Centre in Toronto, Ontario, Canada
Pacers Probable Starters:






Raptors Probable Starters:





Game notes:
http://www.nba.com/games/20111228/INDTO ... 0021100023
The Pacers have lost five straight in Toronto.
The home team has won the last 11 times these teams have met.
Do you guys remember the last two meetings?
[youtube]http://www.youtube.com/watch?v=WH8CtmzvPKU&feature=player_embedded[/youtube]
Indiana was angered that Raptors guard Leandro Barbosa tried to add to his season-high 29-point effort with a drive to the basket - instead of dribbling out the clock - with six seconds left.

Toronto argued that it was payback for Pacers point guard Darren Collison hitting a long 3-pointer as time expired in the Jan. 31 matchup.
DG on Barbosa after the game:
"If I was on him, I would have took (Barbosa's) head off and I would have been suspended for a game for a flagrant foul," said Granger, who led the Pacers with 19.0 points and 8.3 rebounds per game in the season series. "Stuff like that will sit in the back of your head the next time we play Toronto. We don't play them again but if I was on him, I would have taken his neck off."
Both teams enter the game with opening wins against unconvincing opponents.
The Raptors are coming off a road victory in Cleveland on Monday where seven players scored in double figures. Calderon had 15 points and 11 assists. Amir Johnson, starting at center, had 13 points and 13 rebounds.
The Pacers had five players score in double figures in a home victory against the Pistons on Monday. Hansbrough (15 points, 13 rebounds), Hibbert (16 points, 14 rebounds), and West (11 points, 12 rebounds) all recorded double-doubles.
Keys to the Game:
[*] Smash-mouth basketball - We must continue our strong play inside and pound Amir Johnson and Andrea Bargnani in the post. Win the rebounding battle.
[*] Defense - The Raptors have some pure scorers in Barbosa, Bargnani, and Bayless. DeRozan is explosive as well. We held the Pistons to just 79 points on 36% FG shooting, and forced 16 turnovers. We'll need that defensive intensity again.
[*] Bench Play - Hansbrough was huge off the bench on Monday. We need Hill to find his niche, Lance to play well, and Jones not to shoot us out of this one if we want to match their strong play when Barbosa, Ed Davis and Bayless come in.
Injuries
Pacers:
Jeff Foster - Sore Lower Back (Didn't make the trip. Out.)
Jeff Pendergraph - Sprained Right Knee (Day-to-day)
Raptors:
Linas Kleiza - Right Knee Surgery (Out)
Aaron Gray - Rapid Heart Rate (Day-to-day)
Two to Watch: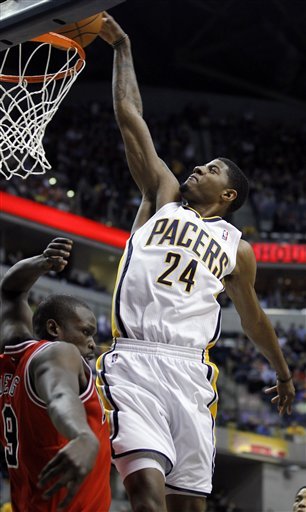 Two of the best dunkers in the game should give us plenty of highlights tonight.
And finally .... TRADITION!
And one for our girl, Stacy Paetz. We miss you.