VS.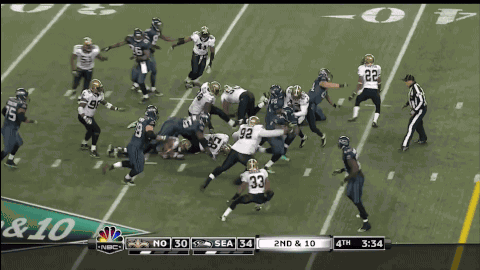 Now with more bad ties!
Will Oodles of injuries "hurt" the Seahawks
Injury update:
Seahawks-
Out
RB Thomas Rawls (Fibula, Did Not Participate)
TE Luke Willson (Knee, Did Not Participate)
DE Michael Bennett (Knee, Did Not Participate)
SS Kam Chancellor (Groin, Did Not Participate)
LB Kevin Pierre-Louis (Ankle, Did Not Participate)
CB DeAndre Elliott (Hamstring, Did Not Participate)
Questionable
T Bradley Sowell (Knee, Did Not Participate)
WR Tyler Lockett (Thigh, Full Participation) Read
Saints
Danny's .02:
1. Stubborn Russell Wilson
He clearly sees himself as an iron man, but he's taking the kind of abuse that has lead Big Ben to be a walking train wreck year after year.... I would just plain prefer Boykins until we get him healed up. That being said Russ has had a few good games lurching around like a zombie, so I have no clue what to expect this week from him.
2. Commitment to the run
I feel like Bevell will often times forget the running game and it always seems to hurt us. I'd like to see 28+ snaps go to a running back vs the saints I know their secondary has been bad this year, but this team needs to run more.
3. What are we doing here Prosisely?
The Seahawks cut CJ Spiller who had made nice contributions in his short time to focus on their rookie third down back. So far I'm not a fan, but taking one to the house might change my attitude.
4. The gimpy pass-rush
Avril has been sore, Bennett is out. Here's hoping Clark is on fire against the Saints.
5. Xman of the game prediction:
Christine Michael goes for 100+ yards. If the team commits to the run, I think Michael will bust a couple big ones and come away looking like the it factor of the game.
Predictions-
Seattle 21 Aints 6