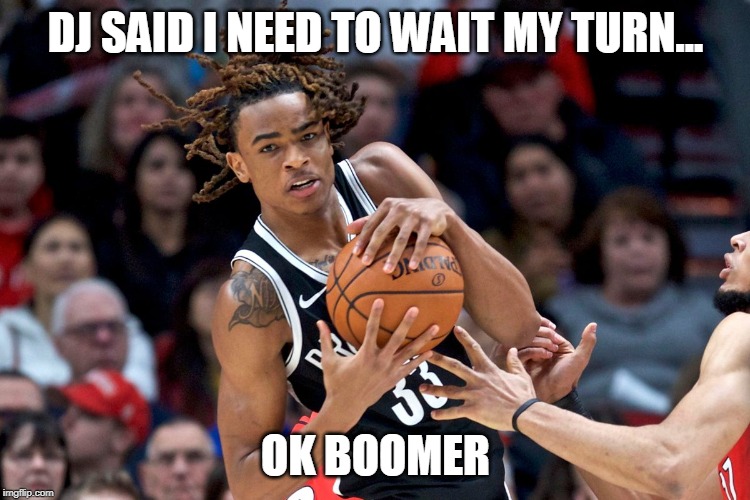 via Imgflip Meme Generator
ECUHUS1981's NET RATINGS
JARRETT ALLEN - 8:
a very solid showing, he maintained the advantage over a longer, stronger veteran adversary. FT shooting hurt his line a bit, but 12/9/1/1/5 with no TO's and only 2 fouls is nice.
TAUREAN PRINCE - 4:
I love TP, but he was pretty ineffective in this matchup. Maybe he just prefers guarding true 4's, he could not stay in front of POR's SF's. Cold shooting and silly fouls sealed his fate.
JOE HARRIS - 6:
hardly a vintage performance, but you can see the defensive attention he commands, and the space that it opens up for our creators. Out-dueled by Hezonja early, but bounced back to get the edge on his counterpart.
CARIS LEVERT - 4:
it's a good sign when 3 starters have poor outing, and you still get a road win. CLV continues to miss bunnies and fails to draw contact from the defense, so his scoring will be streaky. Fights through screens on D like a punchdrunk pugilist, but made some great hustle and vision plays late to help seal the W.
KYRIE IRVING - 7:
when 33/3/6/1/1 is a 'meh' performance, you are a stud. He could dominate more if he stays committed to making the right pass. Occasionally, he'll go long stretches without playmaking if his teammate spoils a previous assist (read: Mamba mentality). His defense late on Lillard was just what the doctor ordered, he's leading this squad in all phases.
BENCH - 8:
Spencer deserves his own section, he was HMHA tonight. Claxton's debut doesn't pop off of the stat sheet, but he had a palpable impact. Nwaba soaked up some PT guarding Dame, but I'm not convinced he slowed him.
KENNY - 8:
He made the right reads in-game! He tweaked the defense! He substituted when appropriate!