I've been growing more and more frustrated by Hump and Evans making it very difficult for us to score and even defend well for a long time now and I believe a big chance is needed outside of any possible trade going down.
I'm going to show examples of why Teletovic should start for us and first thing I'm going to do is look at the difference it makes to the team on the floor when Teletovic is in the game.
1ST POSSESSION
This first picture is the very 1st possession since Tele entered the game in the 2nd quarter. The first thing you can notice is how Lopez is now very much on his own with room to work in the paint 1 vs 1.
The next thing you notcie is Nelson is wary of D Will on the perimeter and is trying to cut out any potential pass to Lopez but doesn't want to leave Williams on an island so he has to make a decision.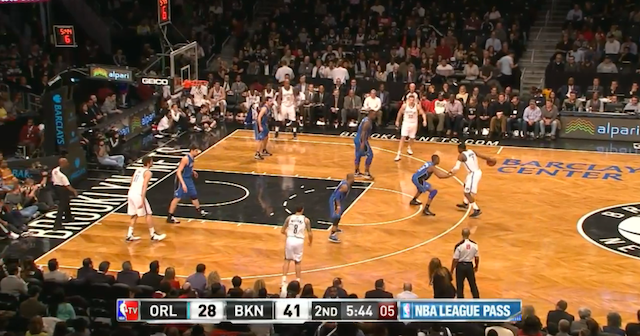 The ball then goes to Joe Johnson who has the entire paint to attack due to Lopez dropping off. Now Nelson is stuck as to whether he should help Harkless out or stay with D Will on the perimeter.
Johnson drives on Harkless, Davis doesn't want to leave Tele on the perimeter so he reaches on JJ while Nelson is caught in no mans land as D Will moves to the corner for a potential open look.
Now Harkless has stayed well with Johnson but due to him attacking the paint, Nelson has collapsed along with Davis to support Harkless on defence with Vucevic moving across the paint on potential help d. Now if Johnson wanted to pass he has a wide open Teletovic, a wide open skip pass to Williams or a risky but perfectly possible pass into Lopez available or to take the contested shot.
Johnson takes the contested shot and makes it but this possession shows how the spacing looked with Teletovic in there. This is a good set to look at because it isn't a normal clearout isolation which leaves both the defender and attacking player on an island to let Joe go to work. This is great because it lets Joe go one vs one while also giving him options to pass to open team mates if he needs or chooses to do so.
VIDEO:
[youtube]http://www.youtube.com/watch?v=tzPmIgpdFo4[/youtube]
2ND POSSESSION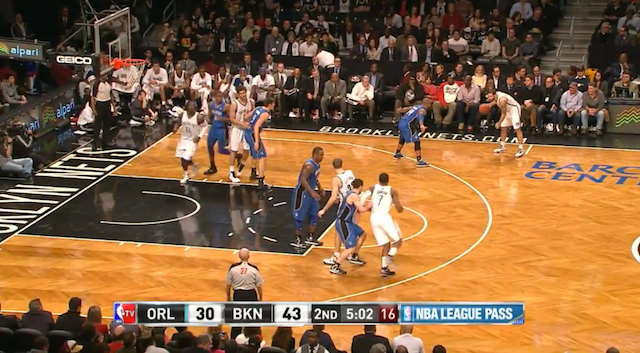 Wallace is in the game and as Williams walks up court Wallace clears out from the corner in front of the bench to the near side corner with Lopez and Vucevic again 1 on 1. Williams decides to call a little two man game between himself and Johnson who can be seen running around Tele towards Williams.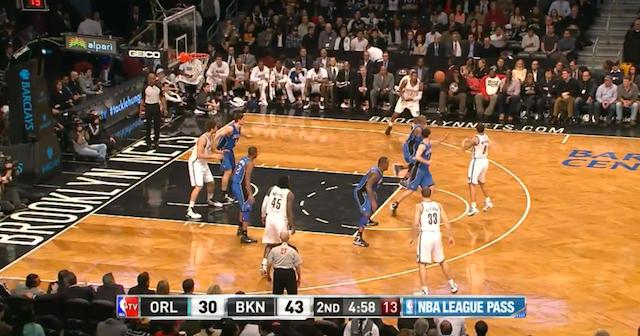 Johnson runs the pick and pop with D Will who begins to drive the lane and pulls up to find an open Johnson. Notice how Davis is still wary of Teletovic's outside threat on the perimeter which keeps him out of the paint.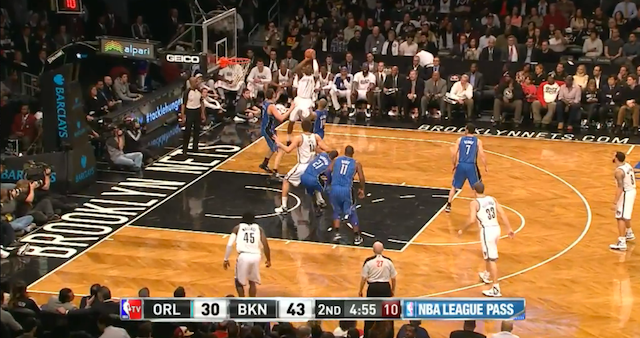 Johnson has the open look like seen in the last picture but he decides to drive to get closer to the basket which forces Vucevic to cross the paint to stop Joe's drive and contest the shot with Nelson trying to get back to defend Joe Also. Notice Harkless on this play having to leave Wallace to go help cover Lopez and realise thats a 6'8 guy in Harkless trying to guard a legit 7footer in Lopez while Davis had to stay at home with Tele on the perimeter.
Johnson misses the shot but Lopez easily grabs the rebound over Harkless with Davis trying to get back to help Harkless out.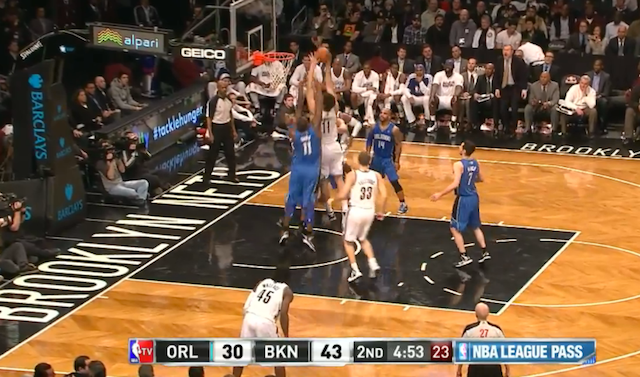 Lopez takes the rebounds and drives back up for the easy put back basket before Davis can alter the shot on the help defence.
VIDEO

[youtube]http://www.youtube.com/watch?v=6aaSXvJ9Meo[/youtube]
3RD POSSESSION
This play starts with Wallace taking the ball up the floor and passing it off to Teletovic at the top of the 3 point line. Lopez sets a pick on Nelson to try and free up Williams. Notice again the spacing on the floor and how each man has a good deal of room.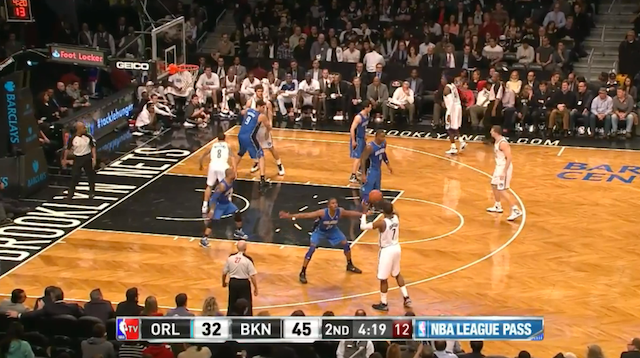 The first pick by Lopez doesn't free up Williams so he spins around to throw a pick on Vucevic to attempt to free up Lopez down low in the paint while again Davis is pre occupied by Tele on the perimeter and Reddick aware and watching what Wallace is doing.
Lopez then shouts and shows for the ball down low in the paint which makes Nelson and Vucevic battle for position down low ready to stop any entry pass into the post while Williams spins out towards the perimeter with Teletovic moving off the 3 point line
Williams gets a good pass from Johnson in rhythm just as he gets to the 3 point line, while Teletovic stops his run and adjusts to set a screen stopping Nelson from closing on Williams for the wide open 3 because Reddick can't close the space due to being worried about Wallace in the corner. Once again great spacing, a well ran play which leads to.....
Splash!!! a perfect 3 point play with Davis having to attempt to close the gap on Williams, Teletovic moves to get great position in case the shots misses.
An all around great play with very good spacing all around.
VIDEO

[youtube]http://www.youtube.com/watch?v=jIPjk73bd_c[/youtube]
4TH POSSESSION
This is where it gets interesting. Basically the exact same play as prior is used (thanks a lot Avery) where everything is ran the same up until this point below:
Williams sets the pick on Vucevic who realises its coming along with Nelson (well of course they would, we just ran the play 30 seconds earlier
). This time Vucevic gets in a good position so Lopez can't get the entry pass in the low post while Nelson stays with Williams.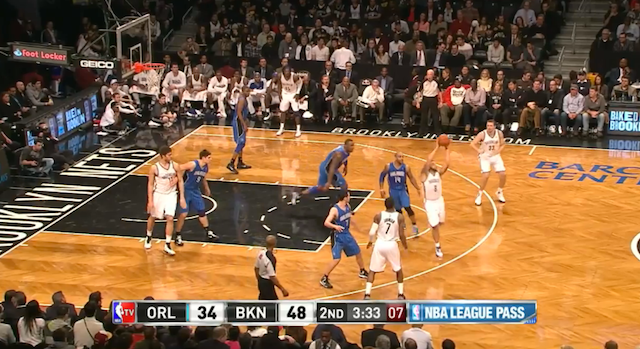 With the play having broken down, D Will runs towards Johnson to receive the ball with Teletovic moving away to the far side of the 3 point line.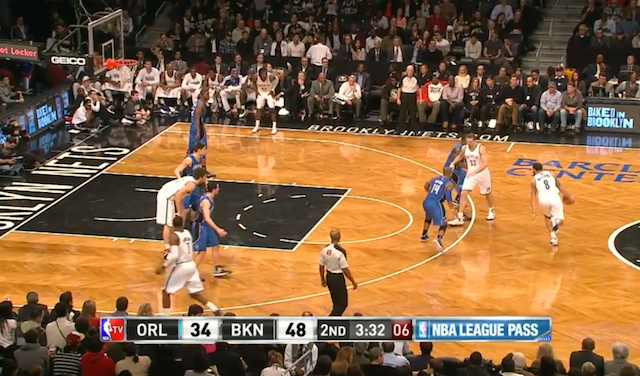 Deron drives towards Teletovic who is going to set the pick for Williams but Nelson calls switch on the defensive side of the ball.
Teletovic sets himself in position where Williams finds him for an open 3 point attempt with Nelson trying to put him under pressure.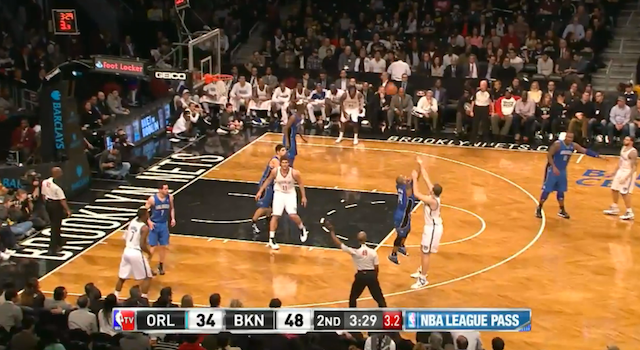 Teletovic takes the 3 point shot (he hit the rim) in which Nelson puts decent pressure on Teletovic but he still get's there late.
This set shows how the play broke down yet with Teletovic on the floor we ran a quick pick and pop 2 man play between D Will and Tele which led to a decent 3 point look, which normally would've turned into a D Will or JJ iso dribble pull up move.
VIDEO

[youtube]http://www.youtube.com/watch?v=dMyyGiymNqY[/youtube]
5TH POSSESSION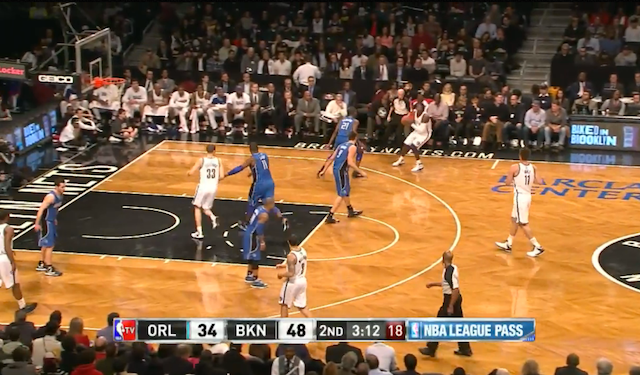 This time Lopez takes up position at the top of the 3 point line after Wallace takes the ball up the floor.
Lopez dribbles to the left to hand off to Johnson and then screens Reddick.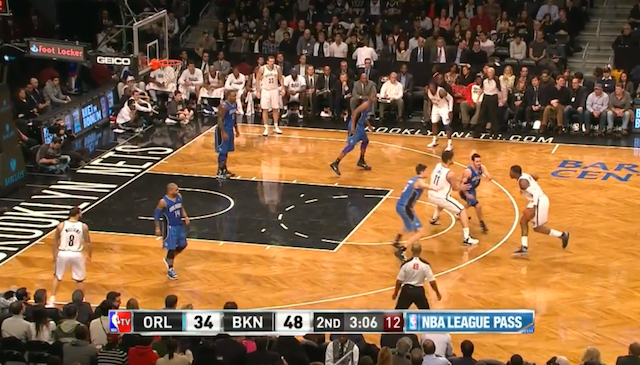 The screen doesn't give Johnson much room so he dribbles to the right where Lopez goes to set a pick but flashes towards the basket.
Harkless collapses on Lopez to prevent the easy 2 point play with Davis also looking to move to protect the paint, so Johnson swings the ball to a wide open Wallace.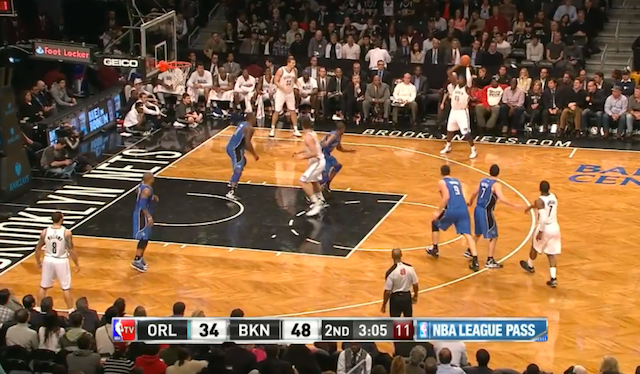 Now its pick your poison time. The ball is in Wallace's hands with Vucevic struggling to get back to defend Lopez, Harkless charging to close the space on Wallace and Davis stuck in between defending Lopez or Teletovic.
This means Wallace has 3 fantastic options, he can shoot the wide open 3, can feed Teletovic for the wide open 3 or he can feed Lopez down low in the paint. So what does he do??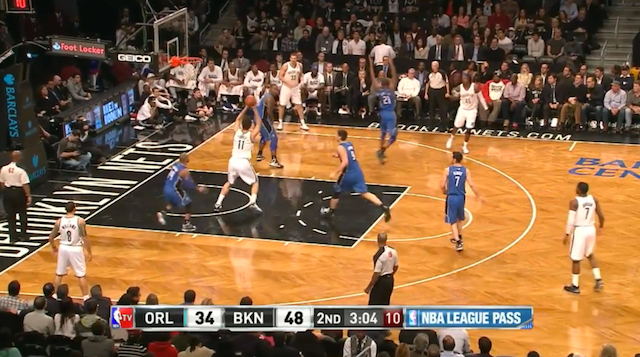 He looks off Teletovic which sends Davis screaming towards Tele, Harkless is still charging trying to close Wallace's space with Vucevic unable to get back to defend Lopez and Nelson occupied by Williams in the corner leads to an easy dunk for Brook Lopez.
Which all comes about due to the fantastic spacing on the floor and every player being a real threat to score points. Was one of my favourite plays of the night personally.
VIDEO

[youtube]http://www.youtube.com/watch?v=TF2lvia05Pw[/youtube]
6TH POSSESSION
Johnson grabs the rebound and drives up the court. Wallace Teletovic and Williams move accordingly around the perimeter stretching the offence to leave Johnson 1 on 1 versus Reddick. While Lopez sets a minor pick on Nelson.
Lopez after setting a small pick on Nelson has spun straight towards the basket. Johnson is going to work with Reddick struggling to contain him so Vucevic moves to double Johnson while Wallace, Teletovic and Williams are all set and ready for a possible pass around the perimeter which in turn has created huge space in the paint.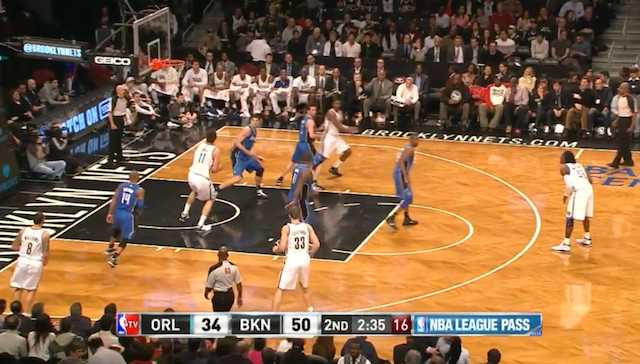 Johnson spots Lopez steaming like a freight train towards the basket and throws a beautiful no look pass right into Lopez who goes up for the easy dunk. Notice how much space is around the floor with the perimeter all having legit threats on the outside which didn't allow the defence to collapse on the play for fear of a wide open 3 point. Another fantastic offensive set with brilliant play from Johnson and good movement from Lopez.
Straight after this play Orlando called a timeout, take of that what you will...
VIDEO

[youtube]http://www.youtube.com/watch?v=WCWAViP8VDw[/youtube]
7TH POSSESSION
D Will gets the ball from the inbounds, walks up the floor with players moving into position.
Williams waits for Teletovic to reach the top of the 3 point line and simply passes the ball off to Wallace while changing his pace and sprinting towards the basket. Teletovic moves in behind Nelson to set a pick on him. Also notice Lopez's position just inside the 3 point line, making Vucevic move away from the basket leaving all that space yet again in the paint and all over the court.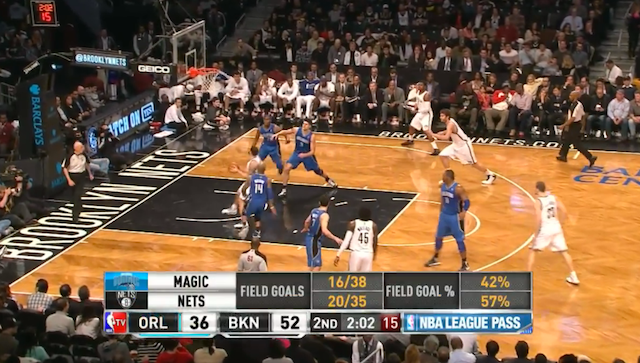 Wallace simply waits for Williams to get beyond Davis and makes a nice pass to the cutting Williams towards the basket with Nelson trying to recover but it's to late with a simple lay up for Williams. Vucevic is no where to be seen due to Lopez hanging around near the 3 point line.
Again another perfect example of space being created by 5 players being on the floor all capable of scoring points and being threats on the offensive side of the floor.
VIDEO

[youtube]http://www.youtube.com/watch?v=wNWY_VYaKBw[/youtube]
Throughout every possession I've shown, which were the first 7 straight after Teletovic came into the game, clearly show the increase space and room on the floor that each player receives due mainly to Teletovic being a legit threat while on the floor.
He sucked Davis (Orlando's starting PF) out of his comfort zone and to the perimeter which left Lopez along to get to work without being double teamed. The exact same space was afforded to Williams, Wallace and Johnson. Note Wallace who hasn't been playing well for us looking good with some great feeds to Lopez and Williams. Having that little bit more space on the floor clearly made things easier for Wallace and he benefited by getting two simple assists.
Teletovic really has an effect on our offence when he is on the floor without even getting the ball. It's as simple as Teletovic equals more space and bigger passing lanes for a smoother offence.
Here is Teletovic's 5 points he scored last night just to finish off the Teletovic segment:
https://www.youtube.com/watch?v=eN7i8YT3G24
-----------------------------------------------------------------------------------------------------
Now lets compare the previous plays to a few with Hump and Evans. I'll only do a couple from each because Hump is a more athletic version of Evans because they are both offensive liabilities that are just garbage men really on offence.
With them in the game it lets the defence double up on different players leaving either Evans or Hump wide open because they aren't a threat to the defence which in turn lets both center and power forward camp in the paint, decreases the space on the offensive end and decreases the size of the passing lane which leads to increased turn overs.
We'll start with Reggie Evans.
1ST POSSESSION
So Williams brings the ball up the floor and Johnson moves over towards Williams. Notice Evans camped just outside the paint with Lopez basically in the corner completely out of the play. Wallace is moving towards the 3 point line but doesn't seem involved.
The play seems to be a bit of a 2 man game between Williams and Johnson to take advantage of the Nets clear advantage size wise at the guard position.
As soon as the ball is passed to Johnson and he catches the ball, Vucevic jumps out on the double team. Due to the absolutely horrible spacing with Evans standing beside Lopez, Orlando is able to cover Lopez & Evans easily with Wallace open but Harkless waiting to jump across the passing lane. In short it looks like trouble.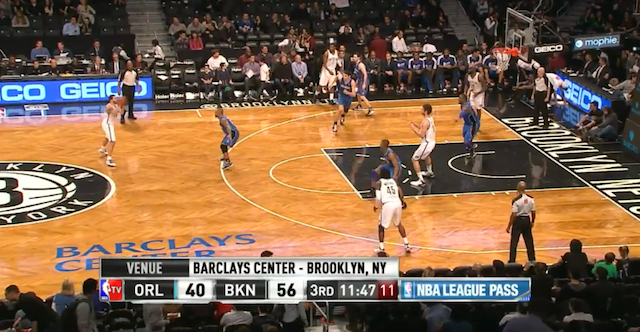 Johnson does well to get the ball back to Williams. Again notice Evans standing without an Orlando player covering him, they have Davis in between Evans and Lopez daring Williams to throw it to Evans due to him not being a threat.
Harkless is in between Wallace and Lopez ready to cut out a pass to Lopez and also close the space on Wallace if the ball is swung to him on the perimeter. What does D Will do??
Williams forces the pass into Lopez, with Harkless jumping across passing line to deflect the pass, Davis jumped to the right of Lopez in case the pass gets through to defend Lopez, Vucevic is trying to recover to the paint while easily getting across the passing lane blocking any potential pass that could've gone to Evans.
Just an awful possession with little ball movement or player movement in general. The floor spacing was terrible which led to the easy steal. For the entire possession there was never a player in the bottom right corner so we failed to spread the floor and make bigger passing lanes, everything just is cramped down low in the paint.
VIDEO
[youtube]http://www.youtube.com/watch?v=IOppHTsK2wc[/youtube]
2ND POSSESSION
Williams brings the ball up the floor and then gives it to Johnson while setting off. Lopez sets a pick on Nelson to try and free Williams.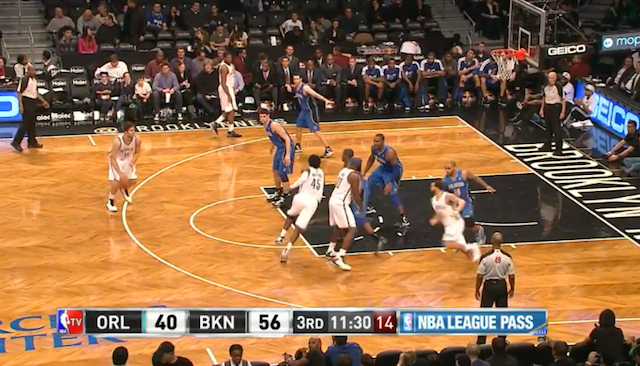 After setting the pick Lopez receives the pass from Johnson. Williams runs a long arc round towards Lopez the ball handler with Evans trying to set a pick on Nelson. Wallace is cutting to the basket to attempt to create space for Williams while also attempting to get an open look running towards the basket. AGAIN, notice the spacing here and so far, not a single player had been in either corner yet, everything is tight and compact.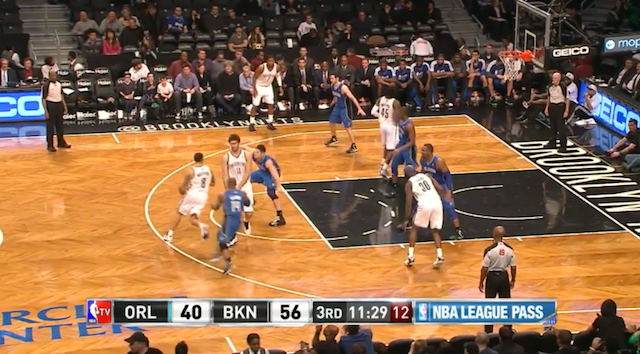 Lopez hands the ball off to Williams and immediately sets a pick and flashes towards the rim. Wallace is heading towards the far corner and Evans is standing pat.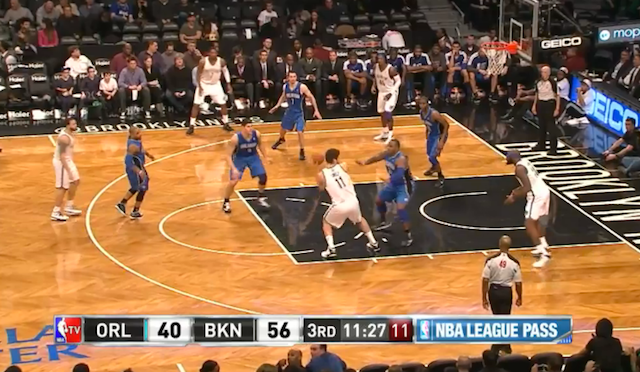 Williams makes a very good pass to Lopez, Davis closes the space down on Lopez forcing him to make a decision. Harkless is thinking about moving into the paint to cover Evans but holds his ground so Evans is currently unguarded.
Lopez catches the ball an immediately makes a bounce pass to the wide open Evans. Harkless has to close Evans down now to force Evans to make a decision. Reddick steps off Johnson and moves between Johnson and Wallace to attempt to cover both players, he seems in a good position. As you can see our entire team is basically in one side of the floor so passing lanes aren't great right now.
Evans makes the big skip pass to Johnson, with Reddick now closing JJ down, Harkless begins to rotate towards Wallace. Again all the Nets are still only using half the floor right now with Williams 5 yards outside the 3 point line just out of screenshot.
Johnson instantly makes the pass to Wallace in the air because the skip pass was quite high so Johnson had to jump. Looking at the situation now, you can see Lopez near the 3 point line, Evans in the paint, Williams outside the 3 point line and everyone pretty much covered.
Wallace jab steps and tries to drive base line with Harkless staying close by. Vucevic rotates off Evans and sets his feet to take the charge forcing Wallace to try and pass the ball. He attempts to find Williams but it goes straight to Nelson leading to the 2nd turnover in a row straight after the half.
Notice again the awful spacing and lack of floor actually used through out the play.
VIDEO
[youtube]http://www.youtube.com/watch?v=qOfSOD8qsZ8[/youtube]
3RD POSSESSION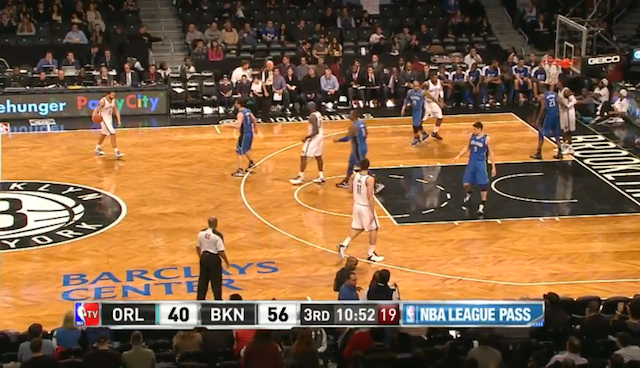 After a fast break and Johnson 3 point miss, Wallace collects the rebound and fires it out to Williams to start the next possession.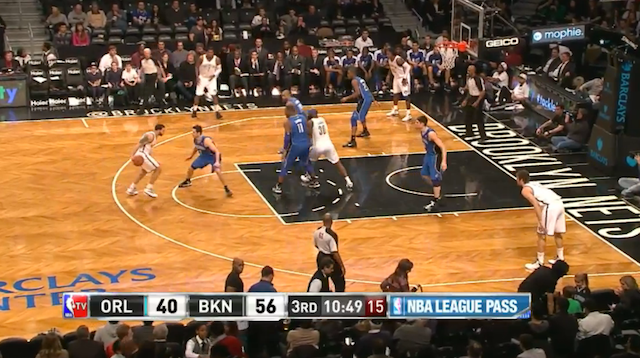 Evans sets a pick and flashes towards the rim which causes nobody to move and everything is as is with Reddick still guarding Williams. Notice Lopez camping out near the 3 point line due to the traffic in the paint. We a pass for Johnson available and Lopez for a long two available.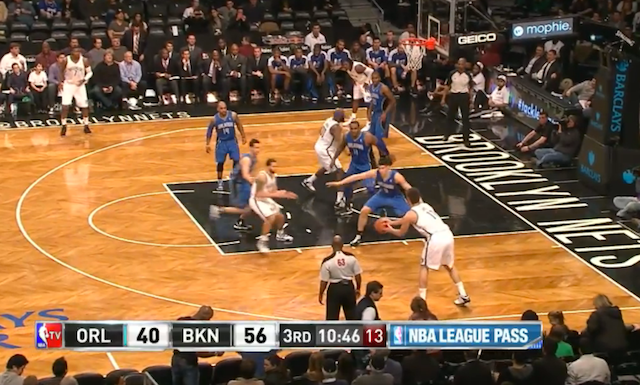 Williams pump fakes, Reddick bits but Williams chooses to attempt and quick give and go with Lopez. Lopez goes to pass the ball back to Williams but Vucevic, Reddick and even Davis are focused on stopping Williams from getting the ball and scoring. No passing lanes are really available apart from the high risk skip pass in the air to Johnson. Poor spacing again.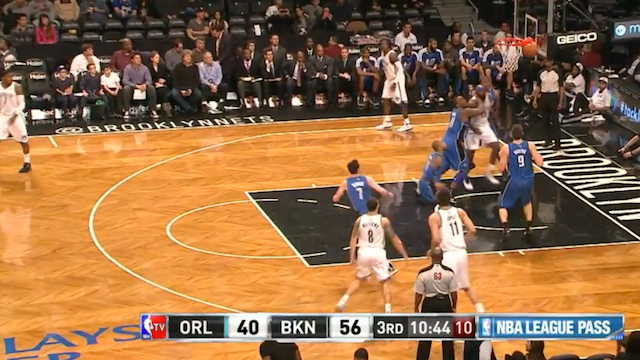 Lopez decides with the defence backing off him to try the long two, which he misses by hitting the nearside of the rim. A very poor possession with poor spacing and little options.
VIDEO
[youtube]http://www.youtube.com/watch?v=LH4reUagQ0M[/youtube]
Just for the record I used the 1st 3 possession's of the 2nd half for the 3 possession's I used for Evans.
-------------------------------------------------------------------------------------------------------------
Humps turn now.
1ST POSSESSION
Williams brings the ball up the floor and passes it to Blatche who sets a pick on Nelson with Williams running towards the basket.
Williams arcs back around to receive the ball off Blatche with Hump and Johnson attempting to screen Nelson to create space for Williams.
Williams receives the pass and gives it straight away to Hump open at the top of the key. Notice again the lack of space in the paint and on the floor in general.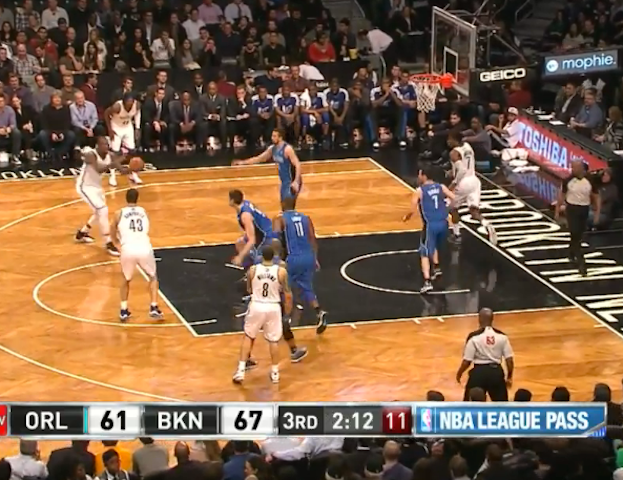 Hump immediately gives the ball to Blatche with the paint completely clogged full of traffic.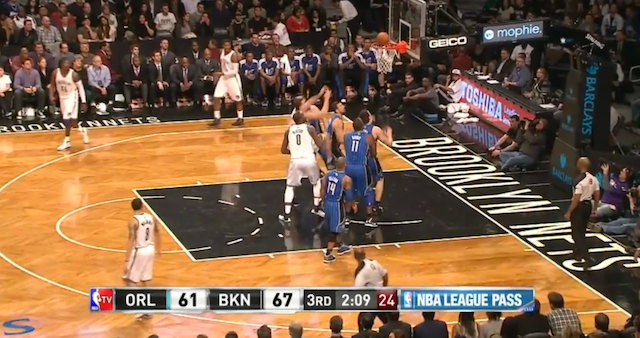 Blatche takes 1 dribble towards the basket and attempts a tough shot which rims out. Hump follows the play looking for the put back but doesn't get it.
Again notice that every single Magic player is inside or near the paint. There isn't any room in there or down low. Things are clogged and we're lucky the magic can't hold onto the ball
VIDEO
[youtube]http://www.youtube.com/watch?v=IQxKs0zxBgg[/youtube]
2ND POSSESSION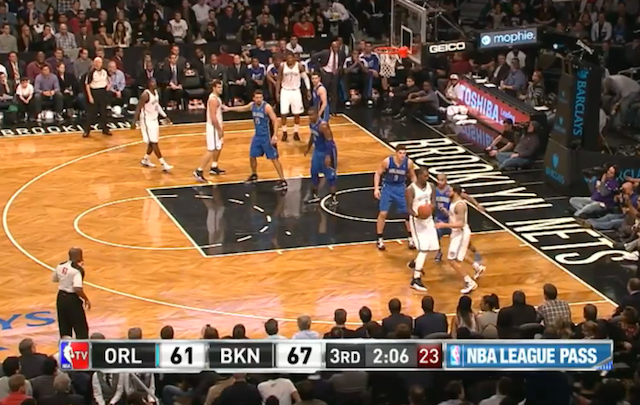 Ball is inbounded to Blatche by Williams who gets it back off Blatche who looks to set a pick on Nelson.
Instead of going through with the pick Blatche flashes into space looking to go toward the basket. Notice Davis's starting position on Hump on the weak side of the basket but at the edge of the paint with Hedo heading towards Blatche as Williams releases the ball.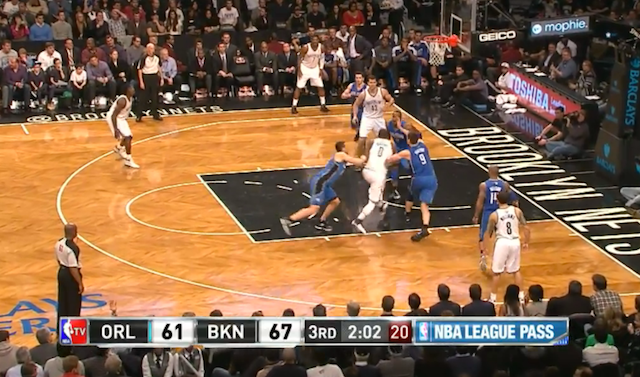 Hedo reaches for the ball as Blatche drives for the hoop with Davis rotating over to attempt to stop Blatche going up to score. There are 3 defenders around Blatche that have collapsed on him but he still gets to the basket for the finish and foul for the & 1.
Blatche made a very good player here but the spacing again wasn't great.
VIDEO
[youtube]http://www.youtube.com/watch?v=1QTdczEsW6Y[/youtube]
3RD POSSESSION
There were a couple of poor fast breaks between the 2nd Hump attacking possession and the 3rd possession (this one) just in case are looking at it on NBA Online or anything wondering why I skipped to this.
So Williams is dribbling it across court with Hump and Blatche setting high screens with Bogans and Brooks on both wings.
Blatche heads towards the rim with Hump down low in the paint. Williams sends a pass, I think intending for Brooks due to Brooks's position but Blatche takes it anyway heading towards the basket direction. Notice again how clogged the paint is right now with limited passing lanes.
Davis leaves the man he was covering (Hump) under the basket to double Blatche. Again there is poor passing lanes and angles with little space inside the arc.
Blatche fakes a pass to Brooks which Reddick bites on, moving out towards Brooks. Blatche then drives towards the basket with Davis forcing him wide he forces a tough shot which misses but Hump is called for a 3 second violation.
VIDEO
[youtube]http://www.youtube.com/watch?v=kNF4pj8Jo4s[/youtube]
---------------------------------------------------------------------------------------------------------------------------------------------------------
Just to be clear, I took the first 7 offensive possession for Teletovic that he was in the game. It was in the 2nd period with 6 minutes left for 7 possessions which took time down to 2 minutes left.
Then I used the next set of minutes Evans was on the floor which was from the start of the 2nd half. After 3 offensive sets I moved onto Hump.
I used the 1st 3 offensive sets Hump had in the 2nd half which started with around 2mins 30sec left in the 3rd. I took the 1st 3 clear offensive sets that weren't fast breaks and thats what they produced.
To also make my position clear, I like Evans and he has a place on our roster as a garbage energy guy who gives us 10-15mins of pure energy with the backups but he shouldn't under any circumstances be starting for us.
Hump is a more athletic version of Evans who falls in love with his very poor jump shot.
I believe the evidence shows when we he a legit offensive threat on the floor our passing lanes get bigger, our spacing improves and we look a much better team. With Evans or Hump in the game the paint gets clogged up with Evans and Hump having zero outside shot which forces Lopez out of the paint into trying more long 2 point shots.
I believe Teletovic should be our starter and helping our starting unit run more smoothly. With the increased space and bigger passing lanes, our better players find it easier to run plays and score baskets.
Where as everything becomes more difficult with Hump and Evans in the game.
Discuss....