With hardly any news going on, thought this might be a fun topic
Any sport. Either your favorite jersey that you own, or the one you simply like the most in sports.
As far as owning one it's this team issued Scott Hatteberg jersey.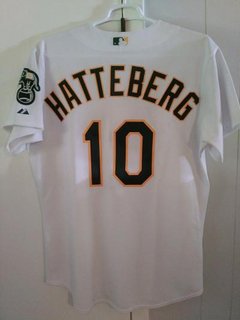 I was so struck by the movie Moneyball it made me start rooting for the Athletics immediately, and Hatteberg was the guy that had the hugest moment in their incredible run that year to keep their record setting 20 game winning streak going. Wasn't even watching baseball at the time, but when I saw it's 4 star rating, I figured to give it a watch. I could not possibly recommend a movie more than this to a sports fan, so if you haven't watched it, treat yourself.
It's basically all about them not having money available to spend on star players, and trying to find a way to still field a winning team. GM Billy Beane (Brad Pitt) hires a statistician (Jonah Hill), who basically crunches numbers to find undervalued players that they then sign or deal for to replace their departed stars. All based on simply run production. Jonah Hill clenching his fist when he closed the Rincon deal while keeping his cool was my favorite moment
Favorite jersey in sports overall is their kelly green jersey. That color combo just pops. This is also a team issued jersey from 2018, Trevor Cahill. There's a seller on EBay named KrukCards that I got these from that has a chit ton of cool game worn or game issued items.