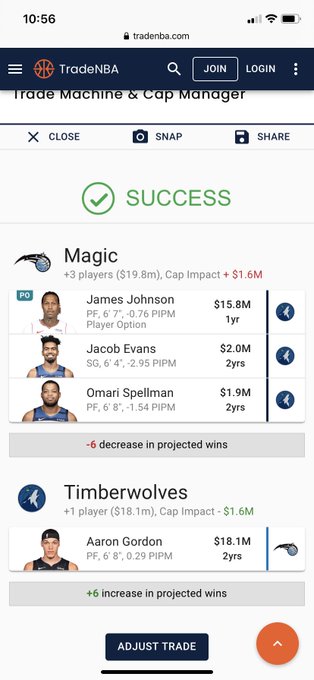 The Orlando Magic are in a place of transition as the team looks for ways to upgrade their roster and land a potential superstar. Power forward Aaron Gordon was once thought of as 'the guy' in Orlando, however, that's certainly changed over the course of the last two seasons. The high-flying Gordon has been linked to several teams, dating back to the trade deadline when the Magic first made him available. Turns out it could be at the draft where we see Gordon change jerseys and the Magic finally getting their wish.

According to Forbes' Sean Deveney, one eastern conference executive sees Gordon on the move and soon:

They were really trying to deal him before the deadline, but they weren't getting the assets back they wanted. It will be easier to move that contract when it's only got two years left. He's probably the most likely big name to be traded. He's a good gamble—he is only 24.

Gordon is making roughly $34 million over the final two years of his contract, which is a reasonable deal considering his production. 18 million in 2020, declining to 16 million in 2021.

However, some teams are slightly concerned with Gordon's drop in points per game as he's gone from 17.6 to 16 to last year averaging 14.4 ppg. Option 1, no, but Gordon suits up as a perfect compliment to round out a big 3.

So keep an eye on the T-Wolves as they try to put together a young-dominant big-3. KAT and D'Angelo Russell could soon have a new running mate...


Would Magic Fans accept a trade of Timberwolves send 1st round pick #17, expiring James Johnson 16 million, and former first round picks Omari Spellman and Jacob Evans for Aaron Gordon.
This gives the Magic two first round picks, 15 and 17 which they can use to get into the top 10 or stay and draft two rookies of their choice where many draft experts say is the strength of the draft class or trade assets for the 2021 NBA Draft.
James Johnson's money comes off after 1 season for 2021 Big free agency class. Spellman and Evans, both first round pick draft players are on their rookie contracts and can be opted out of after one season if they don't pan out or flash in 2020 season. That clears up around $20 million in cap for 2021.
Jonathon Isaac is out for the entire 2020 season and Magic can tank one year, free up a bunch of cap and collect assets for 2021 draft and free agency when Isaac is back.