MaKiaVeLi7 wrote:Who knows? He is listed as "questionable" since the injury. I expect to see him when we are back from the West, maybe against the Knicks or the Warriors home games.

Shoulder injuries are tricky and players usually feel lingering pain weeks after that. Good thing is that there is no damage and Cole will be back sooner than later.

I think the medical staff must be on the hot seat by now given all the injuries last year and this season. They might try to be extra careful from now on when clearing players to return to basketball activities or play in the real games under heavy minutes restrictions.

WeHam might (and absolutely should) take some heat for the decision to let go/fire the previous medical staff that wasn't all that bad after all. There are a lot of questionable decisions with the current medical team, especially the cases of:

Isaac's early return from damaged knee and was it smart to let him play and risk MCL?;

Aminu's recurring injuries and setbacks, the decision not to be surgically repaired, and 1 1/2 years of his career/Magic contract were totally wasted;

Bamba's constant minor injuries that take him a long time to recover from, his major conditioning issues and covid rehabilitation that was clearly messed up;

MCW's ankle/foot troubles that took so long to rehab from;

Fournier's constant back spasms for the last 3+ seasons, forcing him to miss so many games and hindering our chances to pump up his trade value now;

Gordon's hamstring condition that was not fully healed and the guy was clearly held back for the beginning of the season, minute restrictions and missing games;

something was not quite right with Chuma's rehab, he's clearly limited in his movement and jump ability, obviously not at 100% in his athletic capability. Not sure how much of the blame falls on the med staff, but the guy was out rehabbing and getting stronger for almost 2 years and still looks like 34-years old player on his last legs. Still, was cleared to play under minutes restriction again and recently missed multiple consecutive with another knee issue.
and so on & on...

Not saying the med staff is guilty of not preventing players from getting injured, but I start to seriously doubt their ability to make the right decision how to start the injury treatment process and later manage the rehab period. Indications are these new WeHam guys are not so good at that. They were lucky their first year the team was injury-free and we made the playoffs on Vuc's and Ross' backs. After that, these last two years when the minor, lingering or major injuries occurred, their expertise and performance is not something to brag about.

At the same time their job is essential for the team's success as in any team sports.

If our troubles continue and players still get cleared to play full-contact ball and get injured without any collisions or freak situations right after that, it might be time to show the med staff the door followed by the incompetent and lazy WeHam sleeping monster.

I wonder what it would take to bring some of the renowned Suns med guys here and steal some of their expertise and implement their successful procedures? How hard can it be??? One of the major Magic sponsors is AdventHealth after all.

Wishful thinking, I know, I know...
i agree with most of this, especially about chuma i also think he's not all the way back yet....it's like his legs are not under him just yet and he looks a lot slower than i remember in college....while he wasn't a zion level athlete jumping out the gym he wasn't a slouch either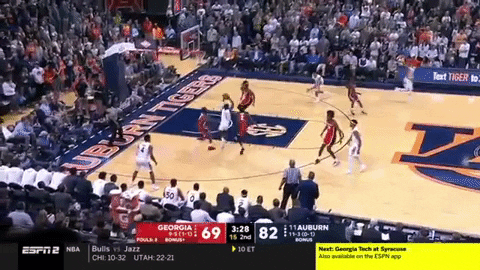 He's nowhere near this as of right now, i don't even think he could do this at this point even though he's not that far removed from this version of himself....i would love know more about what's going on behind the scenes....maybe if one of weltman or hammond could do an interview or something....oh wait....i think hammond was supposed to do an interview...but he canceled.....hmmm