Moderators: Def Swami, Howard Mass, UCFJayBird, UCF, ChosenSavior, Knightro, SOUL
RealGM
Posts: 12,371
And1: 65
Joined: Apr 10, 2006
Location: Political Asylum
Ray McKinnon (Rev. Smith on Deadwood)
vs.
John "Puck" Weisbrod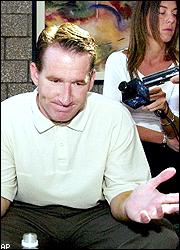 https://twitter.com/cigamodnalro
"A house pulled down is half rebuilt" - Ancient Proverb
"There's beauty in the breakdown" - Frou Frou
"We're going to turn this team around 360 degrees" - Jason Kidd
---
---
RealGM
Posts: 12,392
And1: 2,357
Joined: Oct 21, 2004
Location: Florouqaminu
BadMofoPimp wrote:Reached for a 2nd round talent in Nicholson.
---
Retired Mod

Posts: 34,477
And1: 6,695
Joined: Jan 14, 2004
Location: Beyond the Space, Beyond the Time
Some startling revelations in there dr3.
11/18/2017 - I have officially disowned Nikola Vucevic and branded him a loser.

- Skal Labissiere was my guy in 2016 pre-trade. Whoops, but I still believe.
- Malik Monk was my guy in 2017. Whoops(?)
- Mo Bamba was my guy in 2018. TBD.
---
RealGM
Posts: 10,766
And1: 14
Joined: Jan 05, 2004
God, Weisbrod.

The inspiration for many sigs by me.
"If I help get South Florida into the tournament, then 20 years from now when South Florida is ranked No. 1 in the country, people will look at the history and say, 'Dominique Jones started that program.'"
---
---
---
---
RealGM
Posts: 20,755
And1: 349
Joined: Apr 12, 2004
Location: L-I-M-R
---
RealGM
Posts: 31,514
And1: 7,441
Joined: Sep 16, 2003
Location: Winter Garden, FL
---
RealGM
Posts: 20,755
And1: 349
Joined: Apr 12, 2004
Location: L-I-M-R
---
RealGM
Posts: 20,755
And1: 349
Joined: Apr 12, 2004
Location: L-I-M-R
Work Hard
---
RealGM
Posts: 31,514
And1: 7,441
Joined: Sep 16, 2003
Location: Winter Garden, FL
---
---