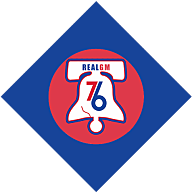 Hi Managers,
Welcome back to our
tenth
season of the
RealGM 76ers Forum Fantasy Basketball League
!
What a crazy year it has been! For the first time in league history, a champion was not crowned for 2019-2020 season due to obvious reasons. This was surely unfortunate because it disrupted the end of Year 1 of our new Dynasty format.
As discussed prior to the 2019-2020 season, this upcoming 2020-2021's Rookie (& Free Agent) Draft order would have been determined by the Consolation Bracket Champion taking the first overall pick. Because our season never reached the Playoff rounds and there was no CB Champ, we will have to go in a different direction.
What I have determined would be the most fair way to determine the winner of the first overall pick this year would be a
weighted draft lottery
. The number of ping pong balls each team possesses will be determined by the final standings (i.e. last place has 12 balls, second to last place as 11 ... top team would have only 1 ball, etc.
see image below
). I will then perform 12 rounds of drawing one ping pong ball. The team with the most balls drawn at the end wins the first overall pick. (If there is a tie, a 13th round would determine the winner if necessary). The rest of the draft order will simply be by final standing when the 2019-2020 season ended and Rounds 2 and 3 will also simply be the order of the standings (last place to first).
I will conduct a Draft Lottery either by a Randomizer online or with actual ping pong balls drawn from a bucket but that is to be announced for both method and date/time.
The start of the 2020-2021 NBA Season
will be a month from tomorrow (
December 22
) so
here is what I need from all managers
:
First and foremost,

LET ME KNOW

you are still planning on managing your team. You can PM me on here OR reply to this thread OR email me (chrismac349 AT gmail.com), whichever you prefer. Just let me know you still want to play

A.S.A.P.

(because if anyone does not want to continue we will need to find a new manager to replace in a timely fashion).
At this time (10:55 PM, Nov 21) I have heard back from

Doncic4Senate

,

Cincinatti Sixers

,

The Baba Yaga

as all returning.
Update (12:55 PM, Nov 22):

Cru Thik, Pippen Ain't Easy, Go Back to Sea World, Motown Philly

are returning.

Please inform me which 12 players you plan to keep. I will be emailing you all a spreadsheet (as soon as I can) of the current rosters (how they exactly were when the league was shut down). Your job is to select

ONLY 12

, no more, no less of the players you plan to keep. Your roster might have 15, 16, or 17 (due to IR spots being used when last season ended). Regardless of how many players are on your team on the spreadsheet, you get to keep 12.
GOOGLE DOCS SPREADSHEET W/ROSTERS:
https://docs.google.com/spreadsheets/d/e/2PACX-1vRW18nSxAmmVDNJaupMM7175GjA3BQKrDmdrSOqzOYlc6l12LwQ2yCofFjPLRgkU8gMZYbpnTzv11Pq/pubhtml
If you are experiencing trouble with opening the rosters spreadsheet, follow this link to an image of it (right click, Open Image in New Tab to enlarge):
All players not kept go into the FA pool where they can be selected, along with the 2020 Rookies, for our three round draft.
1) Cincinnati Sixers #
2) Motown Philly #
3) Dribble Hand Off #
4) Pippen Ain't Easy #
5) Floppers #
6) The Baba Yaga #
7) Doncic4Senate #
8) Wizrd's of Westwood #
9) Str8 Cash Homie
10) Go Back to Sea World #
11) Cru Thik #
12) AIR's Amazing Team
# denotes returning for 2020-21 season
Feel free to use this thread for any questions, discussion, etc. I will try to keep everyone updated as often as possible since we only have 4 weeks to get everything ready before tip-off.
Thanks,
Chris