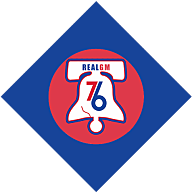 Hi Managers,
Welcome back to our
eleventh
season of the
RealGM 76ers Forum Fantasy Basketball League
!
Just to recap our last season, it was
Cincinnati Sixers
bringing home the 2020-2021 Championship and also the first title since our league switched to a Dynasty format in 2019. Congratulations again, Cincy!
As discussed prior to the 2020-2021 season, this upcoming 2021-2022's Rookie (& Free Agent) Draft will work a little differently than last year's draft. The number one overall pick was awarded to the 2020-2021 Consolation Bracket Champion which was our very own
Wizrd's of Westwood
.
So my apologies folks, no live stream lottery with bingo balls on Twitch this year. Sorry to disappoint.

The rest of the draft order will simply be by final standing when the 2020-2021 Playoffs ended while Rounds 2 and 3 will also simply be the same exact order with Wizrd's of Westwood back in his "regular finish" spot.
Note: draft order is affected by any Playoff team who beat a higher seeded team, so in this case The Real Murray, the 2 seed at the end of the regular season, will select before Doncic4Senate, the 3 seed, each round because Doncic4Senate eliminated The Real Murray in the Semifinals.
I will be setting up a spreadsheet with 2021 Draft Order along with updates to any picks that were traded during last season. Feel free to ask any questions.
2021 Rookie Draft Order:
The start of the 2021-2022 NBA Season will be
Tuesday, October 19
, which is less than 2 months away. So here is what I need from all managers:
First and foremost, LET ME KNOW
you are still planning on managing your team. You can PM me on here OR reply to this thread OR email me (chrismac349 AT gmail.com), whichever you prefer. Just let me know you still want to play A.S.A.P. (because if anyone does not want to continue we will need to find a new manager to replace in a timely fashion).
NEXT >
Please inform me which players you plan to keep. I will be e-mailing you all/posting a spreadsheet here (as soon as I can) of the current rosters (how they exactly were when last season finished). Your job is to select
ONLY 12
, no more, no less, of the players you plan to keep. Your roster might currently have 15, 16, or 17 (due to IR spots being used when last season ended). Regardless of how many players are on your team on the spreadsheet, you get to keep 12. Your keepers will be due to me a couple days before our scheduled Rookie Draft (date & time to be announced, likely within the first two weeks of October).
GOOGLE DOCS SPREADSHEET W/ROSTERS:
https://docs.google.com/spreadsheets/d/e/2PACX-1vRW18nSxAmmVDNJaupMM7175GjA3BQKrDmdrSOqzOYlc6l12LwQ2yCofFjPLRgkU8gMZYbpnTzv11Pq/pubhtml
If you are experiencing trouble with opening the rosters spreadsheet, follow this link to an image of it (right click, Open Image in New Tab to enlarge):
https://i.imgur.com/1JX3JQi.jpg
All players not kept go into the FA pool where they can be selected, along with the 2021 Rookies, in our three round draft.
As For Trading
: I will be opening up the trade market September 1st at midnight (EST).
You may make deals with other managers starting at this time before the draft. However, keep in mind while trading, you still must make your cuts before the draft where your roster will only have 12 players before drafting (aka don't get stuck with more than 12 guys you are very eager to keep).
Also to keep in mind, while trading draft picks, both teams involved must be receiving the same amount of draft picks they are trading away, as we've established when we switched this league to the Dynasty format two years ago. If this is unclear, PM me.
Also regarding draft picks, prior to the 2021 draft, teams may only trade this draft's picks (2021 only, no trading 2022 picks until after this upcoming season begins).
(1) Cincinnati Sixers
#
(2) The Real Murray
#
(3) Doncic4Senate
#
(4) Floppers
#
(5) MotownPhilly
#
(6) The Baba Yaga
#
(7) Ball Lives Matter
#
(8) Pippen Ain't Easy
#
(9) Wizrd's of Westwood
#
(10) Go Back to Sea World
#
(11) Cru Thik
#
(12) Mistov
#
#
denotes returning for 2021-22 season
Feel free to use this thread for any questions, discussion, etc. I will try to keep everyone updated as often as possible since we have less than 2 months to get everything ready before tip-off.
Thanks,
Chris