Yet again, Bayern Munich was able to win the Bundesliga title making it a record breaking four times in a row.
Before that they had to share the record of winning three straight Bundesliga titles with Borussia Mönchengladbach, who achieved that feat winning the league in 1975, 1976 and 1977.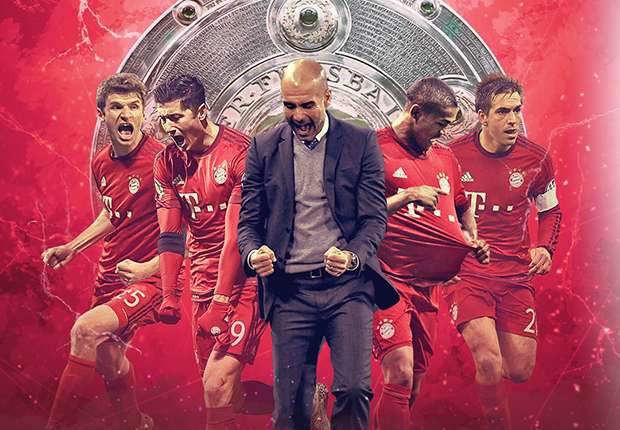 ---------------------------------------------------------------------------------------------------------------------------------------------------
Information for Bundesliga Fans in the US:
FOX Sporst will keep broadcasting the Bundesliga and here are some important links.
Fox Sports Bundesliga
Bundesliga.com
----------------------------------------------------------------------------------------------------------------------------------------------------
This time around, Bayern Munich won the title once again but had to play for it till the next to last game, given that Borussia Dortmund, under new coach Thomas Tuchel, played the best season of a 2nd place team in Bundesliga history and at least somewhat kept some pressure on the bavarians.
The biggest dissapointment of last season was Wolfsburg, who crashed out of those european spots completeley after finishing 2nd the year before and not being able to replace the production of Kevin de Bruyne.
Yet again, Bayern couldn't make it to the champions league final losing to a spanish team in the semis. This time around it was Atletico Madrid, who outworked Bayern and made it to the final thanks to a great team performance, while Bayern once again couldn't score on the road.
This was the last season for Pep Guardiola at Bayern Munich which ended in a good but not great tenure, given that he couldn't win the champions league.
Incoming:
Mats Hummels(CB/Dortmund)
Renato Sanchez(CM/Benfica)
Outgoing:
Serdar Tasci(CB/Spartac Moscow)
After a down year in 2014/15, which saw them finish 7th in the league, Borussia Dortmund came back storming to the top spots of the Bundesliga and played one of the best seasons in club history.
Though, it wasn't enough, as Bayern was just to consistant and able to secure those extra points needed to beat out Dortmund for the league title.
Incoming:
Ousmane Dembelé(RW/Stade Rennes)
Mikel Merino(CM/CA Osasuna)
Outgoing:
Mats Hummels(CB/Bayern Munich)
Ilkay Gündogan?(CM/Manchester City?)
After losing out on directly qualifying for the champions league last season, Leverkusen used a great run to finish the season and secure a place in the group stages of the champions league.
Youngster Julian Brandt really showed his progress and was a big factor in that
Incoming:
Kevin Volland(ST/Hoffenheim)
Julian Baumgartlinger(CM/Mainz)
Levin Öztunali(OM/Bremen)
Jonas Meffert(CM/Karlsruhe)
Outgoing:
Sebastian Boenisch(LB/?)
After a horrendous start, which saw Gladbach lose the first five league games and manager Lucien Favre, the Foals were able to bounce back, win six straight and becoming the first team in Bundesliga history to finish the season in the top half of the table, after losing the first five games.
It ended even with Gladbach taking 4th place and being able to fight for yet another season of champions league football during those playoff games in mid to late August.
Incoming:
Tobias Strobl(defensive allrounder/Hoffenheim)
Josip Drmic(ST/Hamburg)
Outgoing:
Granit Xhaka(CM/Arsenal)
Harvard Nordtveit(defensive allrounder/West Ham United)
Roul Brouwers(CB/Roda Kerkrade)
Branimir Hrgota(ST/unknown)
Martin Hinteregger(CB/Salzburg)
Martin Stranzl(CB/retirement)
After yet another uninspiring season Schalke once again missed out on the chamions league and fired manager Andre Breitenreiter after one season.
Sporting Director Horst Heldt was also let go and replaced by longtime Mainz spording director Christian Heidel, who will most likely install former Augsburg manager Markus Weinzierl as the new manager of Schalke.
Incoming:
Naldo(CB/Wolfsburg)
Outgoing:
Christian Clemens(RW/Mainz)
Joel Matip(CB/Liverpool)
Marco Höger(CM/Cologne)
Pierre-Emil Hojbjerg(CM/Bayern Munich)
After yet another good season Mainz 05 finally made it to the Europa League group stages and will enjoy a guaranteed six games of european football.
Though, like always, good seasons end with the best players leaving the club and this time they won't have Christian Heidel around anymore, to keep things together.
Incoming:
Jhon Cordoba(ST/Granada)
Christian Clemens(RW/Schalke)
Maximilian Beister(ST/1860 Munich)
Outgoing:
Loris Karius(GK/Liverpool)
Julian Baumgartlinger(CM/Bayer Leverkusen)
The second surprise team of the season was Hertha BSC Berlin who only avoided relegation thanks to the goal difference and will now play Europa League qualification.
Though, the club from the german capital certainly will look back at this season and think about a chance missed, given that they were holding a chamions league spot for most of the season but couldn't keep it up during the final weeks.
Incoming:
?
Outgoing:
?
Eintracht Frankfurt was able to beat out Nürnberg during the relegation playoffs, which means only two teams were able to win promotion to the top flight in Germany.
Those two teams are SC Freiburg and RB Leipzig, who'll join the Bunbesliga for the first time and want to take it by storm, being the product of Red Bull financing.
So there you go, this is the Thread for the new Bundsliga season.
Let's have fun, good discussions and enjoy yet another season of Bundesliga football...