(10-24)
@
(13-20)
10:00 pm EST
TV: CSNW
League Pass: CSNW
Radio: KHTK,NBA.COM
International:NBA TV International
@:
Memphis Grizzlies Starting Lineup:
PG-Mike Conley #11
SG-Mike Miller #33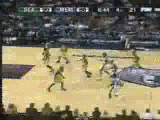 SF-Rudy Gay #22
PF-Pau Gasol #16
C-Darko Milicic #31
Sacramento Kings Starting Lineup:
PG-Beno Udrih #19
SG-John Salmons #15
SF-Francisco Garcia #32
PF-Mikki Moore #33
C-Brad Miller #52
Key Match Ups:
VS
VS
booby Jackson 6th man match up:
VS
Rookies Match Up:
VS
Lets Joke Around :
VS
vs
Scott Van Pelt Has A Way With The Ladies:
Scott Van Pelt On Memphis Grizzlies Dancers:"Gimmie all three of these."
Kings Related Quotes Around Realgm:
Cruel_Ruin wrote:

I'm a shoot first Point guard, who Can't Shoot

Inside The NBA Quotes Corner:
This was right after Peja won the 3-point contest: "Kenny said it was going to be an all-international night. ."Charles:I want to know which international brother is going to win the slam dunk contest

Pre Game Analysis:
My Take On The Grizzlies:The Grizzlies are mystery to me, cause they have all the tools to be successful team but their not, i mean they have a 3 point shooter, a shoot blocker, good PG, low post franchise player, 6th man, athletics players and yet their not successful.
The Ernie Johnson Stat:
Darko Milicic Average 2 Blocks And Changes The Direction Lots Of Shoot, But He Also Knowing For Getting Into Foul Trouble, So What You Want To Do Is Try To Attack Him Early To Get Him Into Foul Trouble .
Preview:
The Sacramento Kings closed 2007 with a dismal homestand. Their first home game of the new year, however, has given them reason to be optimistic.

After snapping their skid at Arco Arena with a win over one of the NBA's best road teams, the Kings host the Memphis Grizzlies, who haven't won in Sacramento in nearly a decade, on Thursday.

Sacramento (13-20) played its last four games of 2007 at Arco, but was outscored by an average of 12.0 points while losing all four. The Kings shot 41.9 percent from the field and committed 18.0 turnovers per contest during the skid.
http://sports.yahoo.com/nba/preview?gid=2008011023