(26-11)
@
(14-21)
10:00 pm EST
TV:CSNW,FSNW
League Pass:CSNW
Radio: KHTK,NBA.COM
International:
@:
Dallas Mavericks Starting Lineup:
PG-Devin Harris #34
SG-Jason Terry #31
SF-Josh Howard #5
PF-Dirk Nowitzki #41
C-Erick Dampier #25
Sacramento Kings Starting Lineup:
PG-Beno Udrih #19
SG-John Salmons #15
SF-Francisco Garcia #32
PF-Mikki Moore #33
C-Brad Miller #52
Key Match Ups:
VS
bobby Jackson 6th man match up:
VS
Former D-Leaguer Match Up:
VS
Mike Bibby countdown:
Days
Lets Joke Around :
VS
VS
LASIK eye surgeon Leonard Newman studying Eddie Jones case: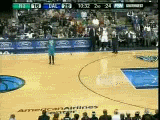 After studying Eddie Jones video :

Eddie Jones:So Dr.Newman what can you do for me to fix my eye vision?

Dr.Newman:

your passing the ball to no one not even the opposite team players. i cant do anything for you man your hopeless, I'm doctor for god sake not a miracle worker.
Kings Related Quotes Around Realgm:
BMiller52 wrote:-= original quote snipped =-

wow no hands

Inside The NBA Quotes Corner:
Charles: On the olympic sport, curling: "I'm still trying to get my grandmother off her old behind and into the Olympics. Why not? She can dust.

Pre Game Analysis:
My Take On The Dallas Mavericks:people have written off Dallas this season cause they lost to a team match up will against them, but here is what people don't realize about Dallas. Dallas them selfs presents mismatch for 90% team in the NBA, because they have perimeter oriented PF, and right handed SG who's comfortable shooting to his right, and thats huge mismatch for any defense this is why their so successful, opposite teams always trying to adjust to them not the other way around.
The Ernie Johnson Stat:
Dallas Are 6-0 When Dirk Scores 30 Point or more, So Please Keep Him Under 30 Point.
Preview:
After extending their longest winning streak of the season in thrilling fashion, the Dallas Mavericks hope to have Josh Howard back in the lineup following a one-game absence when they visit the Sacramento Kings on Monday.

According to Dallas' official Web site, Howard, the team's second-leading scorer at 20.7 points per game, is expected to rejoin the Mavericks (26-11) on Monday. The center sat out Saturday's 95-94 win over the Los Angeles Clippers because of personal reasons.

Dallas, winner of 12 of 14, is looking to extend a seven-game winning streak - its longest since winning nine in a row from March 16-30. The Mavs barely managed to keep the run going Saturday, getting a 3-pointer by Jerry Stackhouse as time expired to sink the Clippers.
http://sports.yahoo.com/nba/preview?gid=2008011223