More on LMA's give-back, pay-it-forward initiative for the Boys & Girls Clubs of SA. He bought all the iPads for the kids! Think about how much it means to them to have one, and to get one from LMA:
Aldridge a 6-11 pillar of stability for Spurs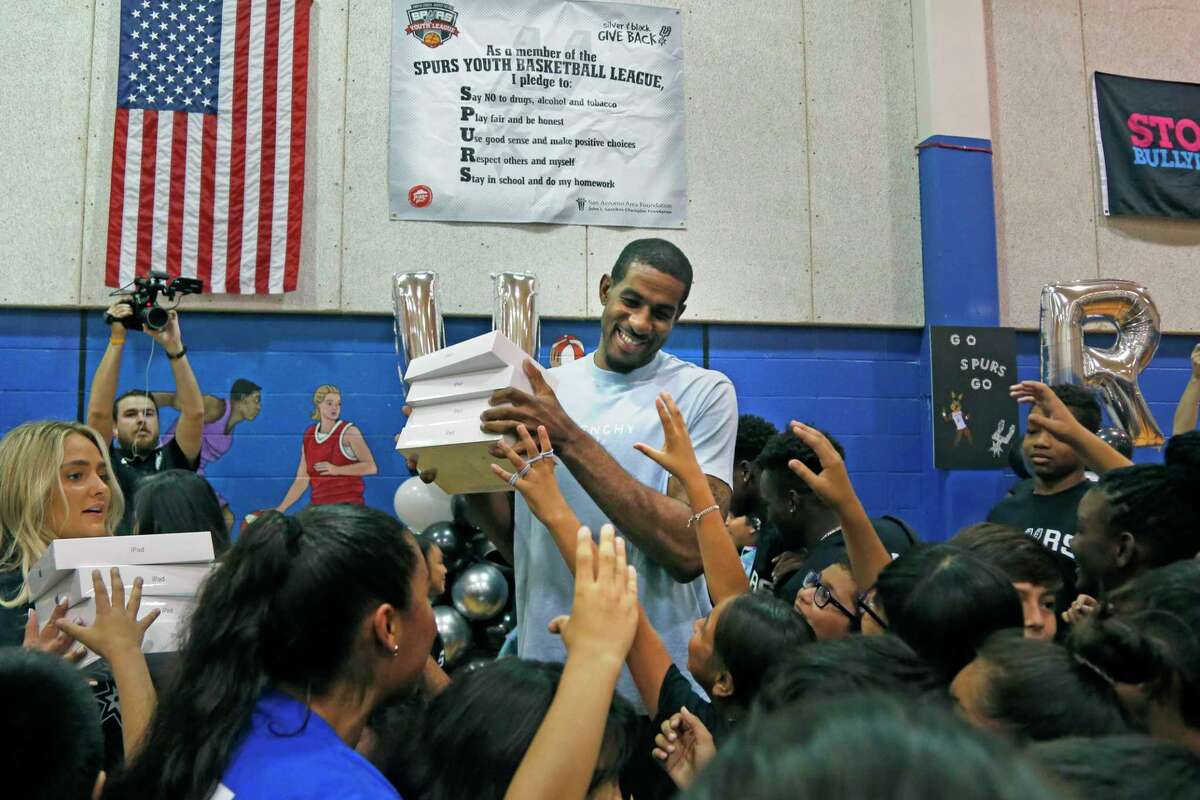 "It's amazing," said Aldridge, who paused his offseason training sessions in Houston to fly in for Friday's Back To School event. "You always have to give back. There's a lot of kids out there who need things, everything."

In a way, Aldridge's appearance at the Boys and Girls Club marked a return to his Spurs roots.

Four years ago, not long after Aldridge signed a four-year, $80 million deal with the Spurs that at the time was considered a blockbuster, one of his first public appearances was to present back-to-school backpacks to children at the George Gervin Academy.
Aldridge, 34, feels a strong connection to the Boys and Girls Club. Growing up in poverty outside of Dallas, he was a regular at his local branch.

"It was a place I used to go to when I was younger to make me feel safe and keep me out of trouble," Aldridge said. "(The way) I grew up, I didn't have much. Having a place like this to go to and having different resources helps make things better."
Aldridge annually throws a back-to-school party for local children. The event is sponsored by H-E-B, which furnished backpacks filled with school supplies for each child in attendance. Aldridge personally purchased 300 iPads, as well as gift cards to Academy for children to buy new school clothes. He spent an hour Friday at the Boys and Girls club filling and zipping up backpacks, offering high fives and autographs, and posing for pictures with a gaggle of children who had no choice but to look up to the 6-foot-11 All-Star.

When Aldridge arrived with the iPads, the gym at the Boys and Girls Club reached Game 7 levels of joyous cacophony.

"I didn't want to fly back just for backpacks," Aldridge said. "Let's do something even better. Every kid loves iPads these days, so why not?"
https://www.expressnews.com/sports/spurs/article/Aldridge-a-6-11-pillar-of-stability-for-Spurs-14277670.php?utm_medium=referral&utm_source=twitter.com&utm_campaign=socialflow#photo-18021992
Cutest line in the article: Upon receiving an Ipad,
Exclaimed one girl, who couldn't have been more than 6 years old: "I've wanted one of these since I was little!"