After the 2020 championship was canceled due to COVID (too bad; that was the team of Sharpe, Houstan, Miller, Nembhard, and Boakye), the U17 WC is back this year and Team Canada will again be looking to compete for a medal.
CHAMPIONSHIP LOCATION, DRAWS, AND SCHEDULE
This year's tournament will take place in Malaga, Spain, with 16 participating teams from around the world. Similar to previous championships, the teams will first play in four groups of four (3 games) and then all 16 teams will face up in three elimination games, leading up to the gold medal game (altogether, 7 games in a timespan of 9 days).
Canada is in what might be the toughest group, Group A, with France, Serbia, and New Zealand. We'll play three games in the preliminary group stage: New Zealand (July 2; 7:15 AM ET), France (July 3; 9:45 AM), and Serbia (July 5; 9:45 AM). The next stage will see #1 from group A vs. #4 from Group B, #2 against #3, etc.).
All games will be streamed on the championship website:
https://www.fiba.basketball/world/u17/2022
Head coach Patrick Tatham and his coaching staff (Jason Dawkins, Charles Hantoumakos, and Terry Upshaw) are back, coming off a bronze medal at the U18 FIBA Americas Championship in early June. It's an interesting approach to have the same coaching staff for both the U17 and U18. Probably not a bad idea though, with the coaches bringing to the table some extra international FIBA experience.
THE COMPETITION
This is not the first time in international competitions that Canada is slotted into the "group of death" (remember the senior men's group in the 2019 WC?). I've watched some games last year in the U16 European tournaments and thought that France and Serbia were probably the best two teams (Spain didn't play), both with excellent size and some interesting talent. Both also finished their respective challenger tournaments unbeaten. There's certainly an argument that these two, together with Canada, are all top-5 teams in this year's tournament (all are also ranked among the top-6 in the world for boys' youth events).
France
is the only country outside of the US that has rivaled Canada over the last decade in terms of steadily producing NBA talent. In terms of national team achievements, though, the French team has been much more accomplished than us. This year's U17 French team is quite loaded with talent and size. Two guys who really stood out for me last year were the big SG
Killian Malwaya
(6'6), who's a good shooter, but can also initiate offense and get into the paint, and their big man
Alexandre Sarr
(6'11; brother of OKC's Olivier?), who's a real force in the paint. Combo-forward
Mohamed Diawara
(6'8) was pretty quiet last year, but I think he also has good potential with a strong frame and some springs. I didn't see any huge future stars on the roster, but it's a deep athletic team with plenty of talent.
Serbia
for me was the most impressive team in European U16 challenger tournaments last year. The Serbs were really big, with 3 players 6'10 or taller, including the gifted center Malesevic (7'2). However, two of their best players (the big man Malesevic and PG Nikola Topic) are out with injuries this year. Even without them, there's plenty of talent on this team. I really liked SG
Onjen Stankovic
(6'6), who didn't shoot the ball that well last year and can have a bit of a loose handle, but did everything else at a high level (14ppg, 8.5rpg; 3.5apg, and 2spg). PF
Lazar Gacic
(6'11) was also quite impressive, showing some nice moves in the paint and the ability to stretch the floor. Like the French, there's no one guy here who's a superstar at this level (though Stankovic is very good), but there's no doubt that they are one of the strongest teams in the competition.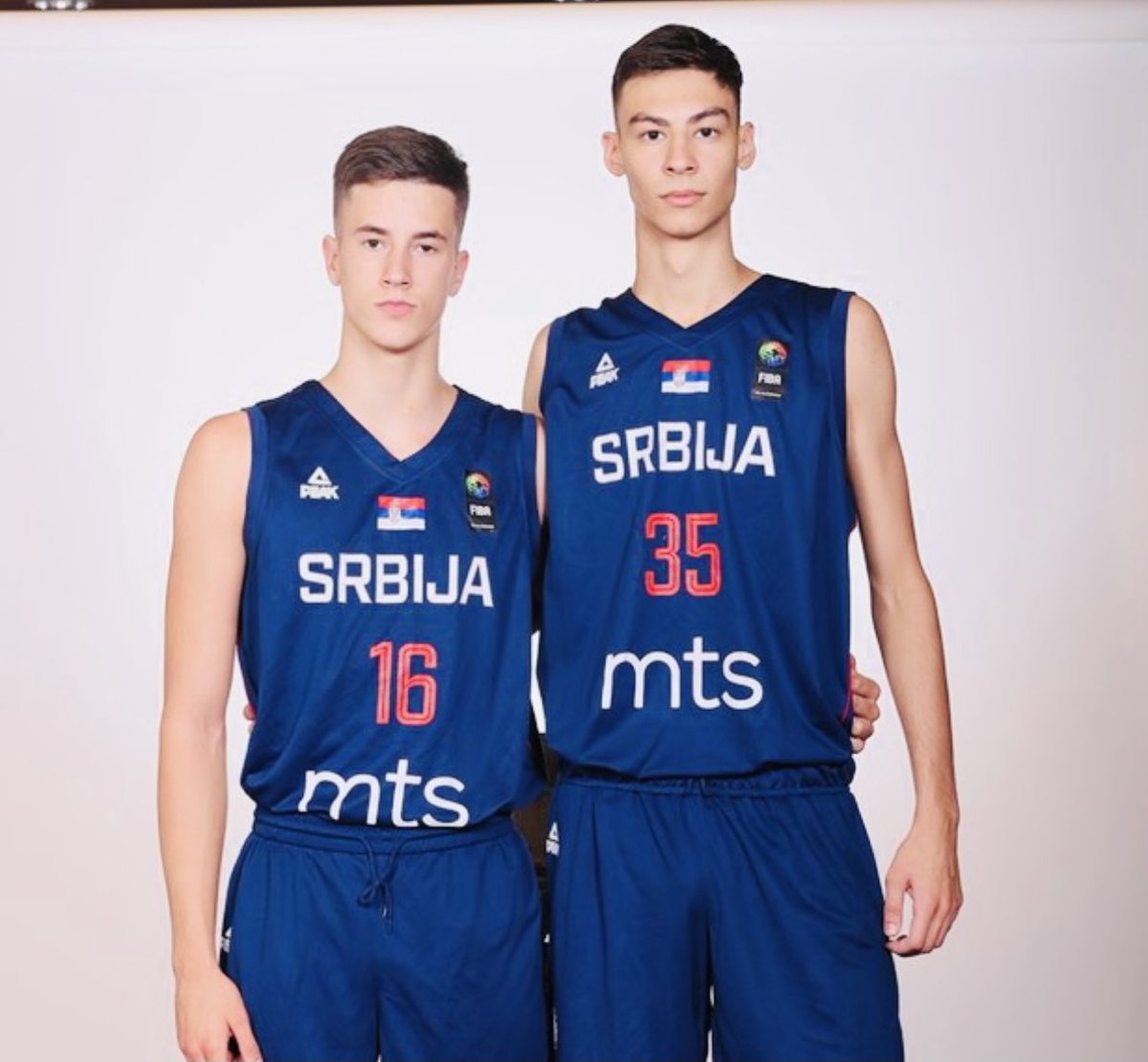 I haven't seen
New Zealand
at all so can't say much about them, but judging by their results at the Asian U16 (which was actually u17) two weeks ago, they are not the strongest team (lost to Australia, Korea, and Japan). The All Blacks are always dangerous with their fighting spirit and team-oriented style of play, and they even have some size this year. But Canada should be the clear favorite in the opening match of the tournament, which is good, since we tend to start these tournaments slowly and not be at our best in opening matches. We should focus our defensive attention in this game on their leading scorer,
Nic Book
(a 6'8 wing who only recently turned 16), as he was NZ's main threat with 19ppg and 10rpg.
Looking at the competition beyond Group A,
the United States
, as always, is the clear favorite. In these age groups, the Americans usually bring many of their most talented players. Since the U17s started in its current format, in 2010, they haven't lost a single game, and only once did they fail to win by double digits… It should be noted though that this year they'll have less continuity than usual. Only four players from last year's U16 FIBA Americas gold team are back, though the depth of US basketball pretty much guarantees that they'll be by far the most talented team.
Of those who did play in the U16 FIBA Americas last year, I really liked combo-forward
Ron Holland
(6'8), an excellent athlete who plays with great energy on both ends. The US likes to play small, with him at the center. Three other players I'm familiar with and think should lead the backcourt of this team are
DJ Wagner
(6'2), an explosive guard who can really put points on the board and might be the most talented guy on this team,
David Castillo
(6'2), and
Krater Knox
(6'4). Also really like the very young (15.5yo) wing
Cooper Flagg
(6'7), who's not one of their primary major scorers, but really plays the right way, makes big plays on both ends, and gives the US a team-oriented dimension. Overall, the Americans are not very big this year with only one player over 6'9 in 7'0 Denis Evans III, who looks like a pretty raw prospect. but, as usual, they're super athletic and with some great talent.
Spain
didn't play last year, so I didn't get a chance to watch them. But I watched their tight loss to the US in the last scrimmage before the games start (which looked more like a gold-medal game than a scrimmage). They looked great. The #2-ranked team in FIBA's youth world ranking also looks like the second-best team in this tournament. They have a really strong frontcourt, led by
Izan Almansa
(6'9) from Real Madrid/Overtime Elite and
Aday Mara
(7'3). Almansa is physically developed, strong, and knows his way around the rim. But for me, Mara is the bigger talent. A 7'3 who moves really well for his size, understands the game, and is a terrific passer. Offensively he's still a bit raw and can be hesitant. But defensively, he's a difference-maker. Moves his feet well and is an excellent shot-blocker, with great length, timing, anticipation, and a good bounce. Really on a whole other level compared with someone like Canada's Olivier Rioux.
I also liked Spain's guard play. They have some size and play strong and committed defense. In particular, their leading guard,
Sergio De Larrea
, is a big PG (6'5) with some great flashy passing and a really nice handle. Playing on home soil, the Spaniards play great team basketball with a lot of passion and should be real contenders for the gold.
Australia
is also traditionally dangerous in these tournaments. They completely crushed the competition at the Asian U17 tournament two weeks ago, with 7'1 center
Roco Zikarsky
looking like a mobile and active presence in the paint. But I'm not so sure how well they are going to stack up against top European and American competition.
Finally,
Argentina
has a talented class, which was able to beat Canada in last year's U16 tournament, reach the gold medal game, and even give the US a run for their money. The two wings,
Juan Bocca
(6'6) and
Lucas Giovannetti
(6'7) were two of the most significant players last month with their U18 team and they have a well-balanced team that plays very unselfishly.
In terms of individuals performers, I think Slovenia's
Jan Vide
and Japan's
Yuto Kawashima
will probably be vying for the leading scorer title in this tournament.
TEAM CANADA
We got to see most of this Canadian team last year at the U16 FIBA Americas and they showcased some nice talent. In particular, PG Mikkel Tyne had a strong showing (was selected to the tournament's First Team). I also liked the performances from the shooters, Jacob Theodosiou and Ishan Sharma, the backup PG Baraka Okojie, and a couple of the younger guys (born in 2006): big men Oliveir Rioux and Char Yeiy, and the athletic wing Efeosa Oliogu. All of these will be back this year, with the unfortunate exception of Oliogu, who's a significant loss.
But this current U17 team also has some welcome new additions. In particular, I'm happy to see two of the most talented Canadians born in 2005, rising SF Jovan Milicevic (6'8) and the intriguing big man prospect
Christian Nitu
(6'10). I'm also curious to see for the first time on such a stage the inexperienced but talented SG Felix Kossaras (6'5) and wings Hudson Ward (6'6) and Jaion Pitt (6'5).
All in all, this team has good size, especially when considering the presence 7'6 Olivier Rioux. But perhaps more importantly, the shooting, which was sorely missing from the U18 Canadian team that we saw last month in the FIBA Americas, should be this team's strong point. Theodosiou (52% from 3 last year), Sharma (41%), Milicevic (49% from behind the arc in Nike EYBL this summer), Kossaras, Ward, and Tyne, if he can get back to his shooting form from last year (42% from 3) are all good (or even great) shooters and should be able to provide plenty of spacing for slashing and for the bigs to work in the paint. Nitu adds some shooting and spacing from the PF position and the point guard Okojie can also shoot it.
So for once, I'm really hoping to see a Canadian team that plays a FIBA-style game –- moving and sharing the ball, finding the open man, and knocking down perimeter shots. When playing the US and the strong European rivals, I don't think we'll have much of a physical or athletic advantage this time, so we'll have to play smart basketball and shoot well to keep the games close.
I'll dive deeper into the roster later on.