Moderators: FJS, Inigo Montoya, DelaneyRudd
Head Coach
Posts: 6,110
And1: 2,617
Joined: Jan 05, 2017
ESPN GameDay link:
https://www.espn.com/nba/preview?gameId=401307768
Game preview:
https://www.espn.com/nba/preview?gameId=01307768
Expected Toronto/Utah lineups at time of this post from Rotowire:
https://www.rotowire.com/basketball/nba-lineups.php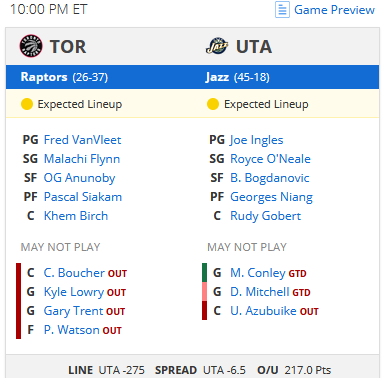 ---
---
Jazz Forum GTS Champion 2019-2020
Posts: 9,362
And1: 564
Joined: Jul 04, 2002
Snyder's substitutions make zero sense...... Why didn't he sub Bogey out for the last play to give him more rest? He played the whole first quarter..... Why do you need him out there for a .3 second play?
---
Head Coach
Posts: 6,110
And1: 2,617
Joined: Jan 05, 2017
Great win by the Conley-less, Mitchell-less Jazz! The Jazz fought hard and Bogey, Ingles and Gobert stepped up big time!
---
Senior
Posts: 591
And1: 190
Joined: Jan 07, 2017
Forrest was terrific as well. It's nice to see him get some run. He played pretty good defense and while he made a couple of unforced turnovers (dropping the ball out of bounds and stepping out on the baseline) overall he had a strong contribution. A little silver lining to go with missing two all-star starters. Also nice to see Thomas get in before garbage time, but it looked like the raptors knew all about his shooting & 3 point making ability, which they should since he played for them, and blanketed him while he was on the court.
---
Starter
Posts: 2,008
And1: 148
Joined: Jul 08, 2004
Location: Sao Paulo, Brazil
Contact:

Post

#6 » by Denizfeital » Mon May 3, 2021 3:09 pm
We really needed that one. Glad we took it.
---
---