Moderators: DelaneyRudd, FJS, Inigo Montoya
Head Coach
Posts: 6,175
And1: 2,666
Joined: Jan 05, 2017
ESPN GameDay link:
https://www.espn.com/nba/game/_/gameId/401307869
Game preview:
https://www.espn.com/nba/preview?gameId=401307869
Expected Utah/OKC lineups at time of this post from Rotowire:
https://www.rotowire.com/basketball/nba-lineups.php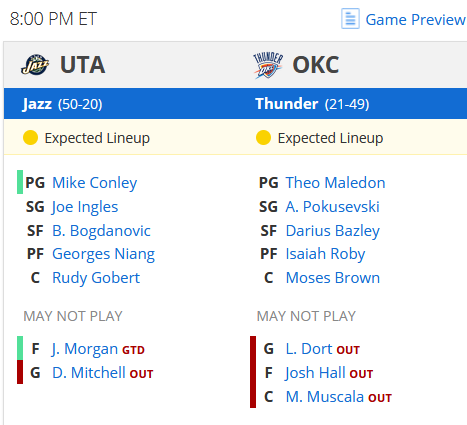 ---
Head Coach
Posts: 6,175
And1: 2,666
Joined: Jan 05, 2017
Great to see Conley's name there listed as "likely to play" less than one hour before tipoff!
Could be a trap game though!
I am going to miss all or most of the game.

---
Senior Mod - Jazz

Posts: 17,479
And1: 1,260
Joined: Sep 19, 2002
Location: Barcelona, Spain
Glad de won.. but okc was a weak roster.
---
Analyst
Posts: 3,002
And1: 184
Joined: Jan 15, 2006
Location: Vladivostok, Russia
Contact:
Just one more win and we are no.1!
---
Head Coach
Posts: 6,175
And1: 2,666
Joined: Jan 05, 2017
I didn't see the game, but it looks like Conley was reasonably productive for his first game back: 10 pts on 7 fga with 3 ast, 2 rebs and 0 tovs in 16 minutes of play. I heard one of the post-game, radio guys say he was moving around the court pretty well.
---
Starter
Posts: 2,021
And1: 165
Joined: Jul 08, 2004
Location: Sao Paulo, Brazil
Contact:

Post

#6 » by Denizfeital » Sat May 15, 2021 5:48 pm
Super happy to see Conley out there. But man, every time he touched the ball I got scared that he would feel the hamstring issue all over again. I was kind of glad that he didn't play the second half.

Hopefully he will be near 100% during the playoffs. With him and Mitchell, I think we are the team to be beaten.

Regards.
---
---