Moderators: floppymoose, Curtis Lemansky, sly
Senior Mod - Warriors

Posts: 50,809
And1: 9,888
Joined: Jun 22, 2003
Location: There is no public health without the public.

Post

#61 » by floppymoose » Fri Jan 15, 2021 8:26 pm
not my year i guess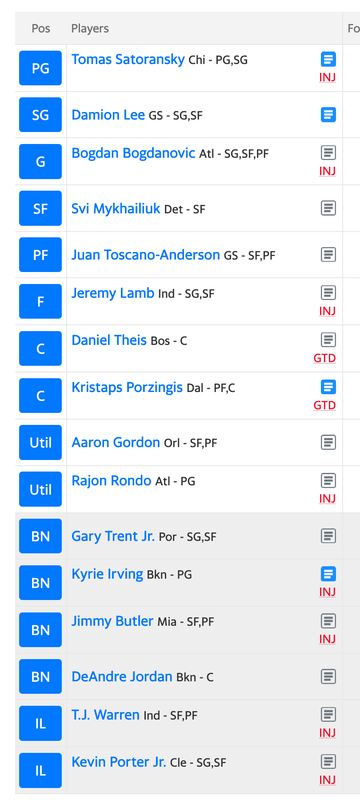 ---
Head Coach
Posts: 6,183
And1: 5,180
Joined: Feb 02, 2005
Location: Ancora Imparo
floppymoose wrote:not my year i guess

Atleast looks like Irving is back tomorrow, and Butler should also be back soon.
---
General Manager
Posts: 8,662
And1: 49
Joined: Jan 20, 2003
Location: Gallifrey
Contact:

Post

#63 » by writersblock » Wed Jan 20, 2021 9:59 pm
floppymoose wrote:not my year i guess
Woah. Who did you tick off?
What's ironic is that the guys who are aren't injured on your roster are perennial injury risks: Porzingis, Jordan, Gordon.
---
Return to Fantasy Basketball Leagues
---