Now that everyone is throwing out the term I decided to ask myself and others what really is a consistent and logical definition of Super Team? There are many questions that come up but I think I have a fair definition that can withstand them (or perhaps evolve to get a better definition).
If the team can challenge without [Insert lead or co-lead All-Time Great], they are a Super Team.

By this definition which teams would you consider a Super Team? Going over my watching time or around about where I can remember players:
76ers
: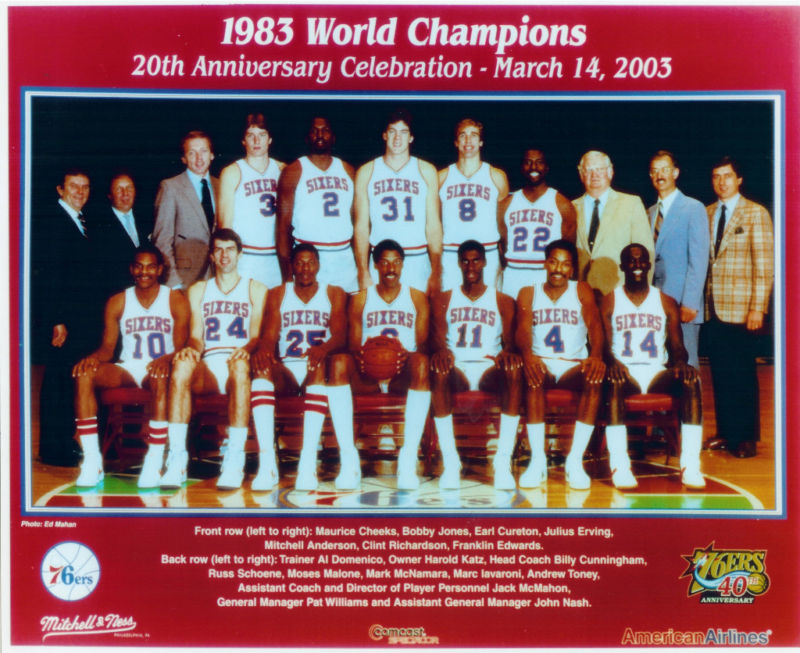 This was a team that was challenging even before the addition of three-time MVP, Moses Malone. This is a team that went to the conference finals or semi finals from 78-80, then lost in the finals itself in 82 before adding Moses and winning it infamously in 83 with only a single loss in the playoffs, sweeping the Lakers. This was a team with Dr J, Andrew Toney, Maurice Cheeks, Daryl Dawkins and defensive beast Bobby Jones. You add Moses and it's not hard to see why there are comparisons with the Warriors.
Lakers 80s
:
Even before Magic joined they were a 47 win team and lost to eventual winners Supersonics in the conference semi-finals. They had a formidable cast in Kareem Abdul Jabbar, Norm Nixon, Michael Cooper, Jamaal Wilkes and not too long after Magic joined they had these guys called Bob McAdoo, James Worthy and Byron Scott to sprinkle on top. But after Magic, the rest was history and they have a case for being the best Super Team particularly when you look at multiple years and the era they were in.
Lakers 00s
:
I would also consider the Shaq/Kobe Lakers as a Super Team, since if either left, they could have still challenged (and did). It is a bit more complicated because Shaq left for another franchise whereas Kobe got some great help that wouldn't have been there if Shaq had stayed. When they were together there is no question, that in comparison to the league in particular, this was a Super Team that was only stopped from winning more rings by their star players' egos and the Spurs. Those Lakers also tended to have a really good cast to support their 2 MVP candidate starters: Derek Fisher, Robert Horry, Rick Fox, Metta World Peace, Malone, Payton and Nash to mention names.
Bulls
:
I think 2nd 3-peat Bulls are unquestionably a Super Team if we go by this definition, as a worse version did in fact win only 2 games less and were a poor call away from another potential finals. That team that lost to the Knicks then added Jordan back and Rodman in particularly who is the GOAT rebounder and top 5 defensive player of all time. I think the 1st 3-peat Bulls has more scope for question: Jordan was a much better player - younger of course - and his absence would have made more of an impact particularly offensively. I think in a normal era it may not have been a Super Team but the rare situation at the time, with so many expansion teams, made them in high likelihood a Super Team. Other stars didn't have a #2 as good as Pippen, and the rest of the team lead by Grant was more than the opposition had as well, which is why they won 55 games even without Jordan.
GSW
I think in all likelihood, this is the Daddy of the Super Stacked teams. The amount of talent and the fact that they are in their primes/peaks coincidentally makes them the GOAT team IMO. They have 2 legitimate MVP players, a DPOY and top 10 impact player, an all-star and best two-way SG in the league who is also one of the GOAT 3-point shooters, a bench consisting with arguably the GOAT 6th man who won a Finals MVP the year prior. They were a 73-win team and added a legitimate top 3 player and recent MVP. Without the Cavs winning 1, they would have swept the entire playoffs. They have won 2/3 of the last finals and are bound to get more.
------
This was just a bit of a casual look and overview of the teams. Please discuss the teams not mentioned or who you think warrant consideration with regard to the definition. If you don't agree with the definition, make a better one that applies more accurately and fairly to everyone in the game.
Notes:
[*]While I consider the Celtics an incredibly talented team in the 80s, I am not sure I'd call them a Super Team considering their vastly different fortunes with and without Bird such was his team effect. They were another elite scorer away from being able to handle Bird's loss, which would have made them a Super Team. The 80s were also a far tougher era of competition, particularly in the East, so that's what hurts them in this comparison - if they had their core 80s team, even without Bird, in the 90s, they may have proved to be a Super Team.
[*]The same in the above goes for LeBron. They had high top end talent but not enough if LeBron wasn't present. In Miami they had a really shallow bench and in Cavs neither Kyrie nor Love lead the team even decently well without LeBron. The bench is similarly not strong.