I am writing this to vent, I am writing this to inform, I am writing this to put all the pieces together.
Here the thesis: Houston has the worst owner in the league, just nobody realizes it yet.
I didn't know much about Fertita before he bought the team. I had heard of him, but never really paid much attention. This guy made his money in seafood and has a huge presence in Houston. I started doing some research and asking around about him and turns out he is a pretty awful person. Standard Billionaire stuff, treats employees like garbage, screws over contractors, screws business partners, mistreat animals, just the classic narcissist who cares for nobody but himself and believes he knows better than every one else.
Just a little light reading, if you want to know more
http://houston.culturemap.com/news/restaurants-bars/09-01-12-how-tilman-fertitta-made-1-billion-dollars-not-by-being-mr-nice-guy/
https://www.bisnow.com/houston/news/other/dozens-of-liens-filed-against-tilman-fertitta-for-the-post-oak-90301
https://houston.eater.com/2017/2/27/14748522/landrys-restaurants-lawsuit-white-tigers-animal-legal-defense-fund
Of course, I don't want to appear biased, so I encourage you to pick up his book "Shut Up and Listen" if you want some of his "Truths"
But anyway, back to basketball.
We know Daryl Morey, the GM of the Rockets. MIT grad with a degree in sports analytics, founder of the Sloan Conference. Just a big basketball nerd. Morey joined the Rockets in 2006 to replace Carrol Dawson. Dawson was a relic from the past but had stumbled onto a Yao /McGrady pairing which was a solid core and by the 2008-09 season, Morey had assembled a super talented group around Yao/ Tmac. With outstanding asset management, Morey had put Landry, Scola, Lowry, Battier, Artest, Dragic, Mutumbo. The thing about Morey is basically never mortgaged his future. He would trade his current year 1st rounders, but almost never traded future firsts. Now that team crumbled because Yao / Tmac 's careers both ended with injury, but it was pretty clear early on that Morey was a stud.
Leslie Alexander, the Rockets owner at the time, was mediocre. He was cheap, he only paid the tax once, but he didn't meddle. He let Morey do what Morey did best. (Edit - that **** did take the trophies when he left)
Flash forward 7 years, Morey had assembled another fantastic team in 2017-18. Chris Paul / James Harden with Capela, Ariza, Tucker, Gordon, Ryno. This was a monster of a team, 65 wins and pushing the GOAT team farther than anyone ever had. They were in terrific shape, had all their future picks, were ready to "Run it back" and be a force for years to come. If there were ever a time to pay the luxury tax, it was here.
Enter Tilman Fertita.
Tilman bought the team in September of 17, shortly after the Chris Paul trade. For those who don't know, resigning Chris Paul to a 4 year contract was part of the "deal" for him to agree to opt into his final year to make the getting to Houston work. Despite the monumental success of that team, in Tilman's first year of ownership, he immediately started complaining about the cost. Simply put, Tilman Fertita cannot afford to be an NBA owner.
https://sports.yahoo.com/report-rockets-owner-tilman-fertitta-163434688.html
After inheriting the 65 win team, and basically being forced to re-sign Paul, the Rockets immediately start feeling the consequences. First casualty: Trevor Ariza. Now Ariza was basically a perfect fit in Houston. Long 3 and D guy, good hustle, good attitude, gone.
https://clutchpoints.com/rockets-news-trevor-ariza-says-daryl-morey-told-him-houston-wasnt-going-to-re-sign-him/
https://bleacherreport.com/articles/2825465-rockets-owner-tilman-fertitta-calls-reporter-a-fraud-after-budget-cut-tweet
Rockets turned to Melo as the bargain replacement player. Houston's defense plummeted from 6th in 17/18 to 16th in 18/19. Morey struggled to find a stop gap and finally discovered Daniel House who was promising as a wing
starting
alongside Harden / Pul. As his 45 day eligibility eroded, the Rockets had their MLE to sign House to a multi year deal, but they refused, over tax concerns. The short handed Rockets literally sat this kid,
a starter
, rather than pay him a guaranteed contract. They claimed they needed it to be the most attractive buyout destination, which they never ended up using.
https://rocketswire.usatoday.com/2019/01/20/houston-rockets-danuel-house-contract-explained/
In other cost cutting news, Rockets had to sacrifice promising 2nd round pick De'Anthony Melton to turn the Ryan Anderson contract into an expiring contract (knight), so it could be dumped easier at a later time. That time came at the trade deadline, when the Rockets had to give up their 2018 1st to get under the tax and move Knight. They got Shumps smaller contract in this deal.
Fast forward to the offseason, where the nightmare scenario happened. Westbrook became available. Morey never wanted Westbrook, he is as an anti Morey player, as they come. But guess who stepped in?
https://rocketswire.usatoday.com/2019/10/02/rockets-owner-tilman-fertitta-tells-final-hours-of-paul-westbrook-deal/
I was in Europe, and so I was six or seven hours ahead of them. So I'm talking at 2, 3, 4 in the morning. And we just decided to do it. They ran different statistics by me.

My basketball ops [operations] got maybe a little weak at the end, and I just said, 'We're doing this. We are going to make the change. We're going to go after it and roll the dice. We're going to find that 5 percent.'

The one thing I believe you do in business, and you do in basketball, is you never sit still. You always keep it exciting. Not only is it exciting that we're a better team, but it's exciting for the fans. I owe it to them to give them the best opportunity to win a championship every year.
This idiot, made the Rockets trade
4 future draft picks
to downgrade from Paul to Westbrook. 4 picks! Now remember, Morey essentially never traded future picks, but in order to make this happen, we had to include 4 future picks. On top of that, this broke ass owner, had to beg Westbrook to restructure his payment schedule to be more favorable to the team
https://deadspin.com/russell-westbrook-restructured-his-contract-to-give-til-1837083665
We again passed on using our MLE and passed on resigning Shump, who while not a great player, could have been extremely useful for salary matching purposes in future trades. Instead, Morey, desperate to try and salvage a horrible situation, tried to creatively create a tradable contract with Nene's deal. This got immediate attention and was promptly rejected by the NBA.
https://bleacherreport.com/articles/2854473-nba-players-association-rescind-part-of-nenes-2-year-20m-rockets-contract
He then decided to "get involved" in the coaching situation by gutting Dantoni's staff and not working out an extension, leading to more drama.
https://sports.yahoo.com/tilman-fertitta-says-mike-d-203003975.html
Fast forward this deadline, and here we are again over the tax. And what do we do, use our pick to dump Green and Nene. Don't be fooled into thinking this was something different. We traded Capela for Covington, and used a pick to dump Green / Nene to duck the tax.
For those keeping track at home:
And he is being kind, by not mentioning not using the MLEs and resigning key players, or using Melton and another 1st to avoid luxury tax savings.
And while generally being a terrible person, cheap, meddling, this is by far my
favorite part of the story
. Fertita has put his idiot son into a management position and makes Morey report to him.
https://www.houstonchronicle.com/sports/rockets/article/The-other-Fertitta-behind-the-Rockets-14058856.php
Daryl Morey, MIT grad, one of, if not the best GMs in the league, has to get the approval of a 24 year old before any of his moves.
Thanks for reading. Feel free to troll or pile on. All I ask is that this becomes known and repeated as soon as possible. We all know Dolan is awful, we all know Sarver is bad. Just make sure Fertita's name comes up if we are ever talking about the worst owners.
Edit - The mural
We have some murals in our arena, usually they redo them year over year.
Heres one from a few years ago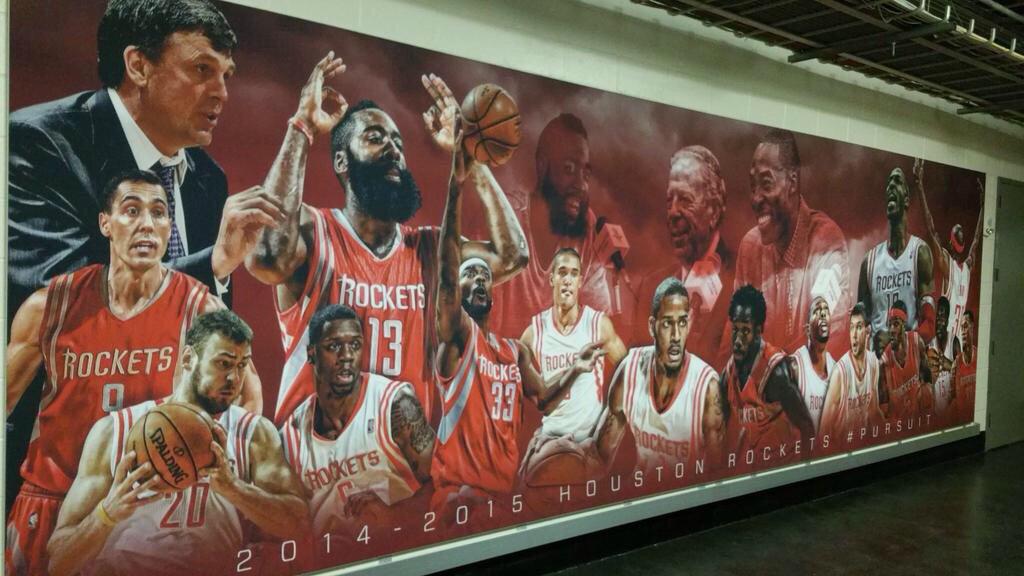 Here is the first Tilman one