This month's episode, the penultimate one in this series, is brought to you by Joe Fresh stores, and their product recall of socks that make people slip and fall; and Tim Hortons, now with better bacon, nearly twice as thick as their previous bacon.
What if I told you that ESPN were filming a 41 for 41 documentary series. 40 shows about Olynyk, and one about Glen Rice who just couldn't shoot as well as Olynyk can.
Canada is completely free of Ebola. Most Canadians thank The Kelly Olynyk for that. He is much more successful than the person the UN put in charge of ending Ebola in Africa. African Charlize Theron was given a budget of over $100,000,000,000 and she thought everything was under control because she sent The Cure to Africa. They played a couple of songs, it didn't really help.
Kelly Olynyk, Vitor Faverani, Kevin Garnett, Jermaine O'Neal, Shaquille O'Neal, Kendrick Perkins, Raef LaFrentz!, Mark Blount, Tony Battie, Vitaly Potapenko, Travis Knight, Pervis Ellison, Eric Montross, Acie Earl, Robert Parish, Dave Cowens, Jim Ard, Hank Finkel, Bill Russell, Ed Macauley, the centers that started for the Celtics for the first game of the season in recent years. It is safe to say that Olynyk is already more impressive than all but four or five on that list, and soon he could be the very best.
Olynyk was recently on the cover of Ebony magazine.
Name the players who in their second NBA season were 7-0 or taller and hit 50% of their field goals and 4% of their 3-pointers. David Robinson, Vlade Divac, Pau Gasol, Andrew Bogut, Nenad Krstic and Kelly Olynyk. Now the list of players in their second NBA season at 7-0 or taller and with 50% on field goals and 40% on 3-pointers, the list starts and ends with Kelly Olynyk.
When the Celtics started the season with the game against the Nets, all across Canada the first quarter was shown live on CTV, TSN and SportsNet, it was even on that channel that usually shows low-budget Inuit documentaries. Those channels then switched to the live World Series game 7. After thousands of complaints were made, the channels then switched back to showing the Celtics game and Olynyk. Many people there are still angry they missed out on five minutes of Olynyk, and wanted to see him and not some giant panda playing in a field next to a water fountain and a moose. As expected, in the opening game Olynyk led all Boston players in scoring.
Olynyk is so famous that scientists and astronomers are naming things after him. They don't call it a "shooting star" when someone sees something through their telescope, they now call it "an Olynyk". A new species of giant lizard was discovered in Idaho, someone wanted to call it the "Three-Toed Boise Critter" but when another scientist saw the three points on the feet they thought of the world's greatest three-point shooter. But instead of naming it after Larry Bird they called it the "Olynyk Iguana", after the NBA's current best shooter. There must have also been a canine named after Kobe Bryant, as it seems a lot of people call Kobe the same name they use for a female dog.
The Olnick Organization was responsible for the placement of a lot of the bricks in New York City. Olynyk and bricks, however, are never seen in the same place.
Fanny Chmelar was considered by Germans to be the greatest athlete ever, but not now, it is Olynyk. The people of Scotland thought Eve Muirhead was the greatest sportsperson ever, now they know it's Olynyk. South Africans thought Desmond Tutu was the best in the world at sport, silly South Africans, but they now say Olynyk is the best. New Zealanders used to nominate Jonah Lomu, now they all pick Olynyk. Pele, Brazilians used to say he was the top of the sports world, it is Olynyk for them now. There are more than 200 other countries to list, by the end of the season most will be Olynykized, except maybe Burkina Faso and Djibouti.
November 14, 2014 was a very historic day in basketball as Olynyk and Powell combined for 21 points, 2 steals, 1 block, 6 rebounds, 2 3pointers against the Cavs. All of Canada celebrated the two Canadian players and their great achievement. Both played well, and are future stars for the Celtics and Team Canada, with Olynyk doing just slightly better as he contributed 21 points, 2 steals, 1 block, 6 rebounds, 2 3pointers in the game.
In Canada there are 5,150 followers of the Olmec religion. Out of the 35,541,410 people in Canada, all but 16 of those who speak English follow Olynyk's career, and plenty of Quebecois also cheer for Le Kelly Olynyk too. Those who speak Farsi, Hindi and Arabic in Canada for some reason are not interested in sports or even Olynyk.
Kevin Love was quoted by ESPN saying "I like [Kelly] Olynyk's game". Of course he does, and maybe if Love keeps training and practicing hard, in time he might be half the player that Olynyk is two thirds of the time in the first quarter.
Around British Columbia and Alberta there are now Olynyk-themed restaurants. There are many foods named after Olynyk and the game of basketball. Meals include The Hook, The Legendary, Double Double and The BC Sunny Start. White Spot Restaurants, they are "Home to Triple "O" Sauce". Olynyk, Olynyk, Olynyk.
https://www.whitespot.ca/menu/bc
MMA bully Boris Stinkallova changed his name to Alexey Oleinik and then changed his name to Oleksiy Oliynyk. He sounds like a Soviet version of Ron Artest.
If you unfortunately have to drive from Dallas to Tulsa you might visit Durant. The town in Oklahoma was called that a long time before the basketball player was around, although most assume it was named after him. In Canada, several provinces there have started renaming cities after Olynyk. Saint John is now named Saint Kelly and St. Johns is now named Saint Olynyk. Canadians feel those two places in the Maritimes are now less confusing.
He is 7-0 tall, but Olynyk's assists per minute numbers for Boston are better than Smart, Bradley, Thornton and Green.
Larry Bird broke a bone playing football in high school, Kelly Olynyk broke a bone playing football in high school, they both hit outside shots, they both only played in the NBA for the Celtics, rare 50-40-90 players, tall players with great passing ability, people said there would never be another Larry Bird but Olynyk might be another Larry Bird.
Apparently the first time Marcel Marceau saw Kelly Olynyk play basketball it left him speechless.
Canadians are obsessed with Olynyk. Proof, look at a map of Toronto. Canada only has one real road, the Trans Canada Highway, but they have begun upgrading some of their dog-sled tracks to handle automobiles. They are naming these after Olynyk. The first new road is called the 410, their way of putting Olynyk's number on street signs throughout their community. The second new road, the 401, shows not only their appreciation of Olynyk but possibly a learning disorder as they could have just called it the 41.
Something that basketball fans celebrate with Olynyk is his intelligence, how he moves without the ball and how he can see how the play should work even if the rest of the players out there are clueless. The opposite on the intelligence scale in the NBA to Olynyk might be J.R. Smith, until recently Smith had been using that large brush next to the toilet to clean his teeth.
Money per point average cost.
Evan Turner
$381,162.79
Kelly Olynyk
$195,826.42
This month the MPPAC looks at Olynyk and former 76er and Pacer Evan Turnover, that should say Evan Turner. Neither player is killing the salary cap, but only one player sells tickets and that is The Kelly Olynyk. Nobody, in their right mind, ever walked around saying, "I want to go buy a ticket to watch the NBA game because Evan Turner is playing". Turner is similar to Olynyk, in versatility, but he is also worse in everything than Olynyk is. Turner calls himself a "Villain", it seems that everyone else calls Olynyk a hero.

What Kevin Garnett was thinking.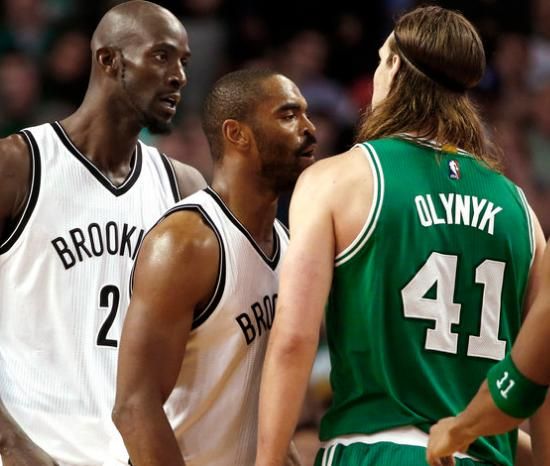 I'm an obsolete design. The Kelly Olynyk is faster, more powerful and more intelligent. The Kelly Olynyk's a far more effective killing machine.



What The Kelly Olynyk was thinking.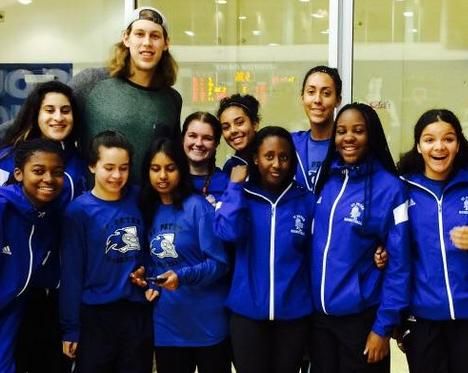 That's right, this is the 2014-15 Philadelphia 76ers roster.



What The Kelly Olynyk was thinking.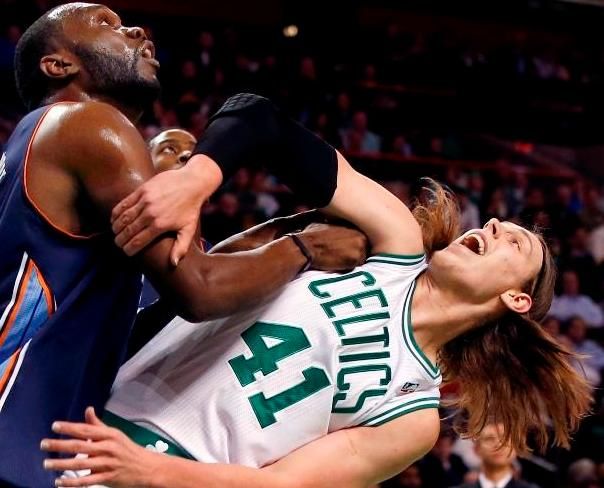 Well, that's something you don't see in that horrible building where your team owned by Michael Jordan disgraces the game of basketball. Look up, it's championship banners.



What Phil Pressey was thinking.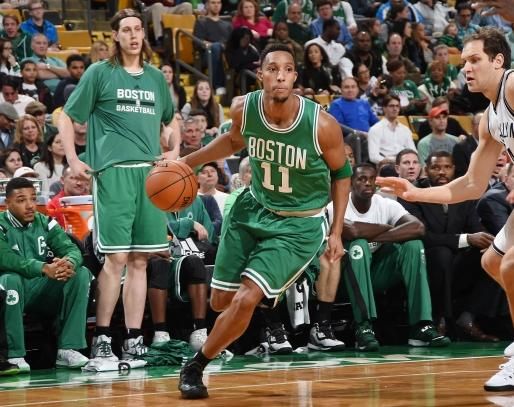 The Kelly Olynyk is amazing. He can lead the team in scoring, rebounding, three-pointers, assists, and now he is coaching the Celtics to a big win.



What the little kid was thinking. (Bonus, not featured in Episode 5)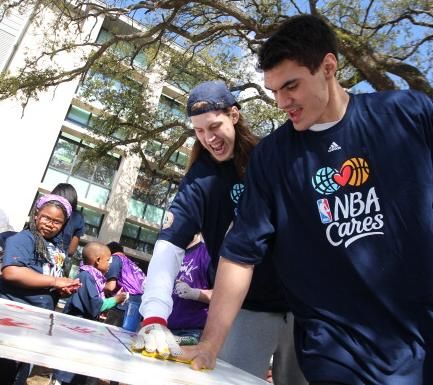 We were promised NBA superstars. I see Olynyk, that is one NBA superstar. Where is the other superstar, all I see is a big fool from the Thunder who fouls a lot.



What The Kelly Olynyk was thinking.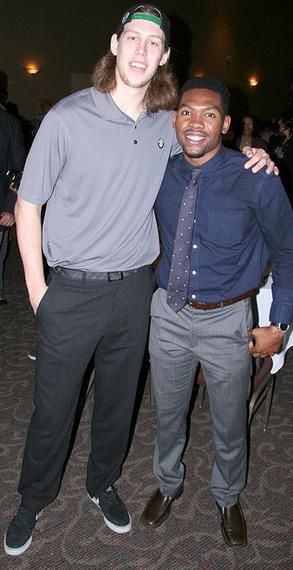 Sorry, Phil Pressey. Just making plans in case the Celtics trade you. Here is your replacement.



What The Kelly Olynyk was thinking.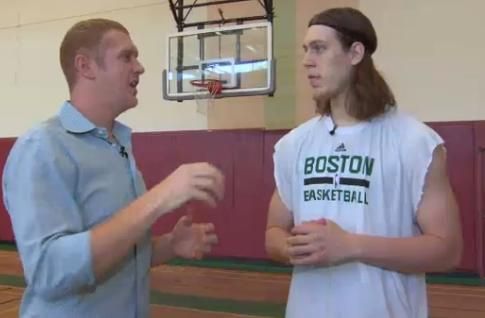 Scalabrine told me everything he knows about playing basketball, but that is fine as I had forty seconds to spare.



What Phil Pressey was thinking.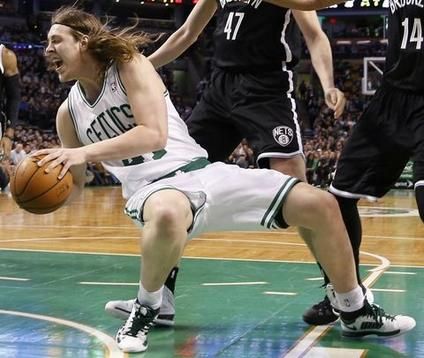 That's just The Kelly Olynyk doing his impersonation of me, but he is still taller than I am.



What Phil Pressey was thinking.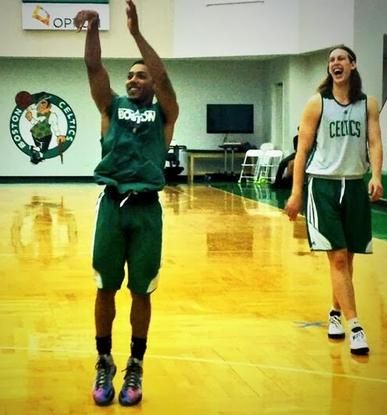 This is my impersonation of The Kelly Olynyk, although when he shoots the ball it goes in the basket.



What The Kelly Olynyk was thinking.


I didn't plan on it but I am now famous, and get to meet famous people. I think that is Carl Winslow from the Family Matters TV show and maybe that is the little guy in charge of North Korea.



What The Kelly Olynyk was thinking.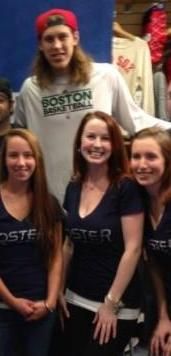 Olynyk for three.



What Phil Pressey was thinking.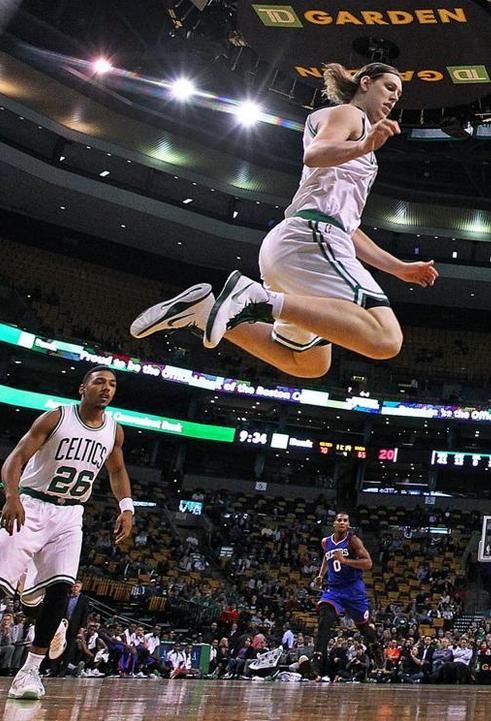 I am a witness to history, I think The Kelly Olynyk just set the record for the high jump.



What The Kelly Olynyk was thinking.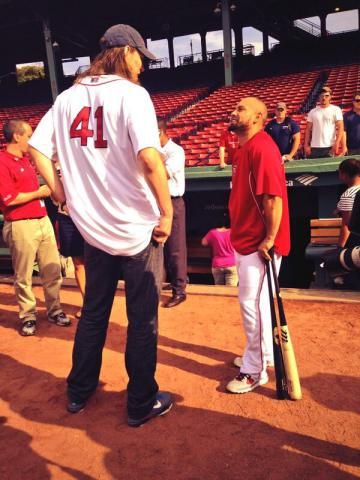 No, I can't help you, if you want a wig you are going to have to ask someone else.



What The Kelly Olynyk was thinking.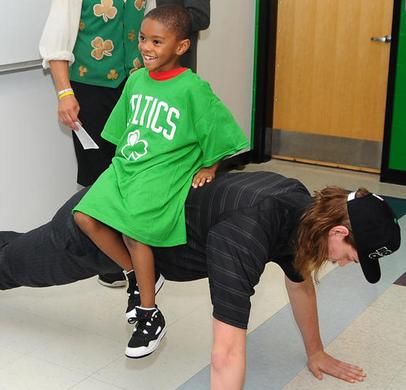 This is actually easy, as usually I have to carry the entire Celtics team on my back.



What The Kelly Olynyk was thinking.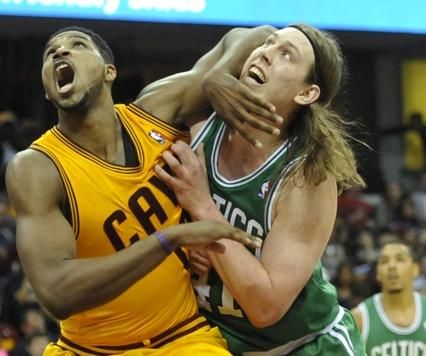 This is one weird and cheating Canadian hitting me. Not only is he fouling me but he wears a purple bracelet. Maybe it is to tell him which hand he shoots with, as he used to wear it on his left hand.



What Evan Turner was thinking.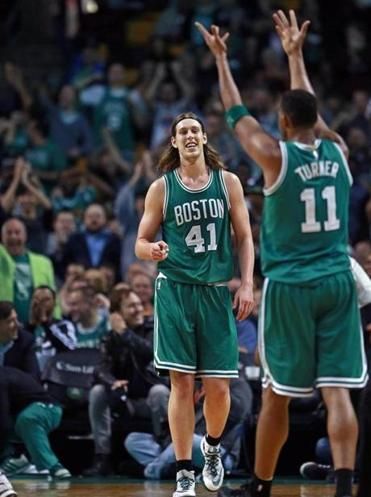 I seem to be struggling with this basketball thing. Maybe my new career could be as a CFL official, and Olynyk just scored a touchdown.



What The Kelly Olynyk was thinking.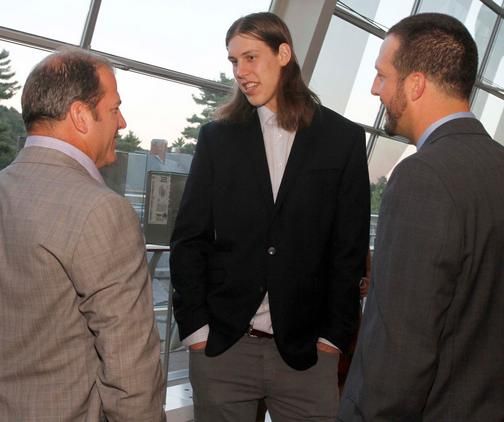 There's Vlade Divac and Vladimir Radmanovic, not only am I a better passer than Vlade Daddy and a better shooter than Radman I am much taller too.



What The Kelly Olynyk was thinking.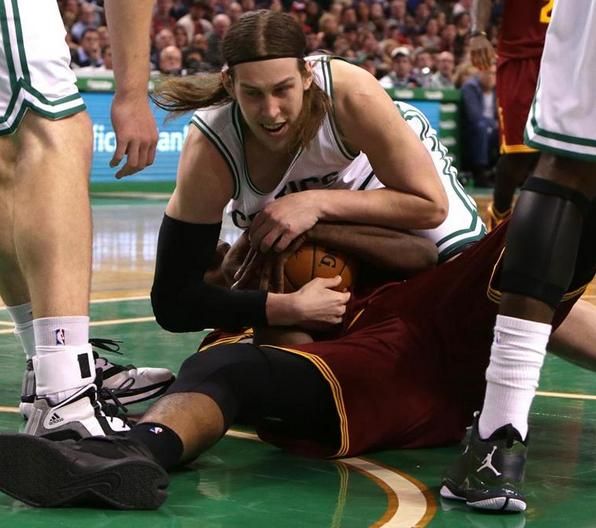 1, 2, 3. I win. I'm going to WrestleMania. Look out Cena, the real champ is here.



What The Kelly Olynyk was thinking.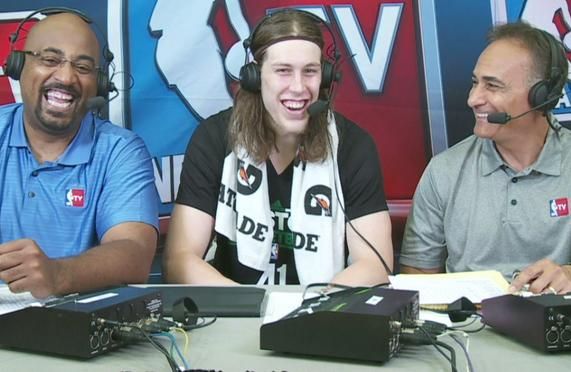 I always thought those guys from PTI were loud and crude and rude, but I am actually enjoying being on their show.



What The Kelly Olynyk was thinking.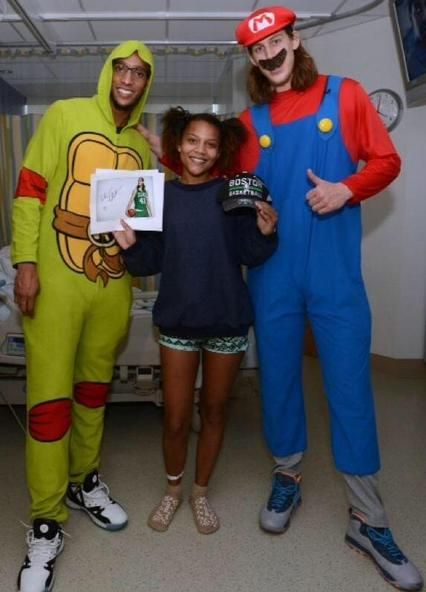 I have gone undercover with a Turner Mutant Ninja Turtle to find out which player is the favorite of Celtics fans. Wait, let's see. They will indicate the player by holding up a picture. I'm not surprised, it's me.



What The Kelly Olynyk was thinking.


Who's the cat that won't cop out, when there's danger all about? Olynyk. Right on.



What Phil Pressey was thinking.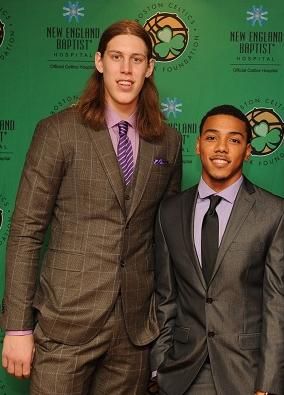 I came to this hospital to just sign some autographs. The Kelly Olynyk arrived and cured polio, raised $41,000,000 and even posed for a picture with me.



What The Kelly Olynyk was thinking.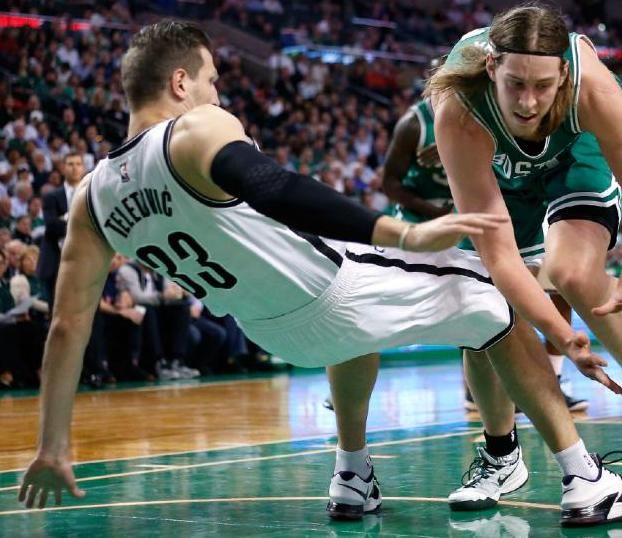 You don't deserve to wear number 33. Wear it again and I will push you over again. I learned that method for communicating with foreigners from watching Tango & Cash.



What The Kelly Olynyk was thinking.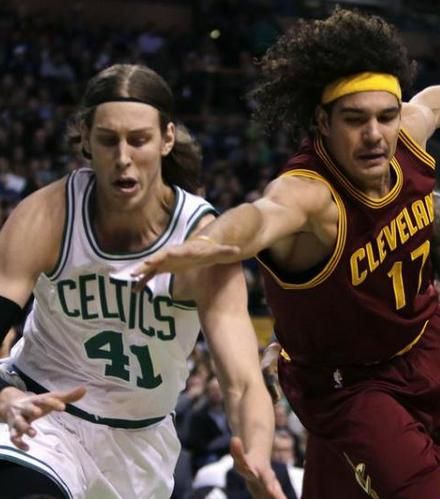 That is why I use conditioner on my hair. I don't think he does.



What The Kelly Olynyk was thinking.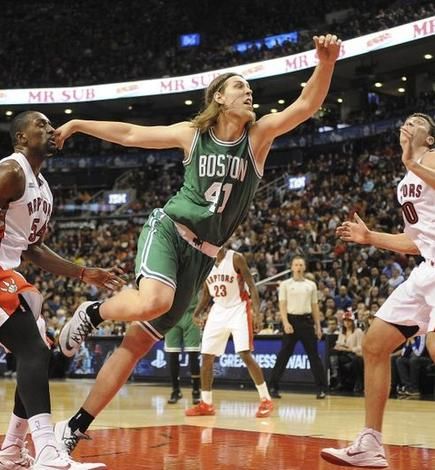 Clark Kent turns into Superman. Superman turns into The Kelly Olynyk. Up, up and away!


Sent from a computer with a mouse and a keyboard.