NewEra wrote:

bringbackhoffa wrote:that Jokic trade in hindsight..Giannis may now be the 'Robin' on that team..

The Jokic and Murray trades are looking really good for Melo and Deeeez.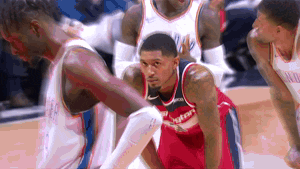 Jokic:
19 l 7.5 l 5
Stats aren't up anymore from years two and one. I experimented with Jokic playing off Drummond in year two because of the sims affinity for odd lineups. Jokic was the center in year one, I tried a bunch of different ways to get Jokic to play like Jokic and the sim wasn't having it. I've said from the get go, Jokic is the hardest player in the league to replicate and it killed me not to be able to see it on my team.
Now perhaps playing next to Giannis he will breakout, but this sim? I dunno man. Here's to Beal discovering a three pointer next year in this sim. Hope it works out for Deez, just not at my expense.